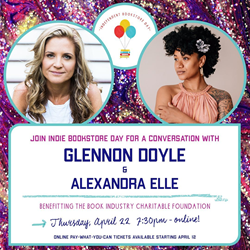 On April 22nd at 7:30 pm ET, Independent Bookstore Day hosts an online conversation with 2021 Independent Bookstore Day Ambassador Glennon Doyle and author Alexandra Elle.
SAN FRANCISCO (PRWEB) April 19, 2021
Independent Bookstore Day (IBD) is pleased to announce that registration is now open for its showcase event with 2021 Independent Bookstore Day Ambassador Glennon Doyle. The public can register for the online conversation on Eventbrite now. The event has an optional donation button, and all proceeds will support the Book Industry Charitable Foundation's (Binc) bookseller safety net. Moderated by author Alexandra Elle, the conversation will also include dedicated time for Doyle to answer audience questions.
Doyle has always been vocal in her support of independent bookstores. She is the author of the #1 New York Times bestseller Untamed, a Reese's Book Club selection that has sold over two million copies; the #1 New York Times bestseller Love Warrior, an Oprah's Book Club selection; and bestseller Carry On, Warrior.
"I'm honored to be the 2021 Bookstore Day Author Ambassador to support these community businesses so they can keep doing the vital work of supporting our communities," noted Doyle.
Alexandra Elle is a writing-to-heal facilitator and the author of After the Rain, Neon Soul, and Today I Affirm: A Journal That Nurtures Self-Care. Writing came into her life by way of the exploration of healing through journaling. Elle teaches workshops and retreats assisting others in finding their voices through storytelling, poetry, and narrative writing. She also hosts the hey, girl. podcast.
In addition to the event with Glennon Doyle and Alex Elle, IBD is producing events throughout the week. You can find all of the event information on Indie Bookstore Day's Virtual Events page. Events include:
Monday, April 19, 7pm ET/4pm PT. It's Funny 'Cause It's True: Women Humor Writers Tell All with Rachel Bloom, Amber Ruffin, Lacey Lamar, and Sloane Crosley, moderated by Late Night with Seth Meyers writer Karen Chee.
Monday, April 19, 8pm ET/5pm PT. A conversation with Kawai Strong Washburn, author of Sharks in the Time of Saviors and Lauren Francis-Sharma, author of Book of the Little Axe.
Friday, April 23, 7:30pm ET/4:30pm PT. Solving Mysteries & Fighting Injustice with YA Authors Angeline Boulley, Sara Faring, Tiffany D. Jackson, and Kim Johnson.
Saturday, April 24, 1pm ET/10 am PT. Drawing With Estelí Meza, Illustrator Of Peace: bring your pencils and paints and get ready to make art with Esteli!
Saturday, April 24, 3pm ET/12pm PT. Beyond Fabio: The Modern Romance with authors Georgia Clark, Talia Hibbert and Thien-Kim Lam in a discussion of the modern romance novel and a celebration of all things hot, steamy, meet-cute and happily ever after.
Independent Bookstore Day began in California in 2014 and became a national event the next year. It is a program of the American Booksellers Association and is supported by publisher sponsors Penguin Random House, Simon & Schuster, HarperCollins, Wiley, Sourcebooks, Arcadia Books, Turtle Point, Catapult, and Ingram.
Facebook at Facebook.com/BookstoreDay
Twitter @BookstoreDay
Instagram @indiebookstoreday
#IndieBookstoreDay
For more information, contact:
Elka Karl, Publicist
hello@elkakarl.com / 510.508.7328
or
Samantha Schoech, Program Director
IBD@bookweb.org / 415.846.6131