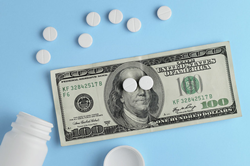 As an independent and transparent PBM with over 70,000 pharmacies in its network, clients' drug spending has been kept below the national growth rates for the past ten years in a row. That speaks volumes about our low drug pricing and how we hold Big Pharma accountable.
GAINESVILLE, Ga. (PRWEB) February 11, 2020
Skyrocketing prescription drug prices are enough to make you sick. Just when you thought Big Pharma prices could not get any higher, 471 medications increased an average of 5.1% in the first few days of 2020.
Politicians, lawmakers, and advocates have all stated, "Enough is enough" and vow to prompt legislature to lower drug prices "now." S. 2543, the Prescription Drug Pricing Reduction Act of 2019 (PDPRA), is a bill that proposes reductions in Medicare reinsurance payments from 80% to 20% over a three-year period. This does, however, increase insurers' shares of cost responsibility from 15% to 60%. So, what are the actual savings?
This increase in insurer responsibility has forced more Prescription Benefit Managers to take a closer look. "Consumers are fed up with high prescription drug prices," says LaMar Williams, MC-Rx Executive Vice President. "They should choose a privately held healthcare technology company as an authority on the continuing debate over drug pricing, not another Big Pharma multinational corporation. With a combined 50 years of experience, MC-Rx provides the best, lowest cost PBM system and services available with demonstrated savings of up to 37% in its first year among its network of over 70,000 pharmacies."
"Furthermore," he continues, "Unlike most other PBMs, MC-Rx is one of a very small number of PBM's that owns and operates its own system. This enables great flexibility in benefit plan design and system coding to create a reduced-cost model, which translates to lower prescription drug prices. Above all, we offer independence, transparency, openness, and accountability so plan sponsors may provide better health, every day."
Big Pharma vs. One PBM
Political outrage is running high against Big Pharma drug prices and their "broken promise" to lower or offer generics at a discount.(1) Both major political parties have promised to lower drug prices, only to rise yet again this past January.(2) Even if out-of-pocket costs for Medicare Part D beneficiaries become law in 2020 though S. 2543 (PDPRA), there is still a high annual out-of-pocket spending cap of $3,100 starting in 2022.(3)
A recent study confirmed that "…PBMs are able to obtain lower prices because of their specialized knowledge, negotiation ability, and volume of covered lives, giving them substantial leverage over pharmacies and pharmaceutical companies…" but the ongoing finger-pointing continues to result in an apparent inertia to move any initiatives forward.(4) How long will it take to accomplish any of these goals in today's volatile healthcare environment?
The Solution is a PBM Independent of Outside Influence
"MC-Rx provides faster, more cost-effective services and solutions customized to its clients' needs," adds Williams. "As an independent and transparent PBM with over 70,000 pharmacies in its network, clients' drug spending has been kept below the national growth rates for the past ten years in a row. That speaks volumes about our low drug pricing and how we hold Big Pharma accountable."
One client said it best: "We decided that we needed to make dramatic changes in our pharmacy benefits, and our PBM really wasn't helping us. When we implemented, we used all of MC-Rx's savings tools, and without much disruption at all to our Union members, we saved 37% on our total drug spend and our members saved about 24% on their copays in the first year." ~Trust Fund Administrator
"The bottom line is that MC-Rx is focused on being the best Pharmacy Benefit Manager in the business. We have the most flexible, technologically superior, integrated systems for prescription benefit administration. With our state-of-the-art online solutions, growing network of pharmacies, mail order pharmacy, and ProCare HospiceCare, our customers are able to measure and manage their businesses in real-time, all the time, anywhere."
About MC-Rx
MC-Rx is a full-service Pharmacy Benefit Manager (PBM), with corporate offices in Gainesville, Georgia and Caguas, Puerto Rico, focusing on transparency, best-in-class service, and offering clients "lowest net cost" pricing. MC-Rx was formed by combining two URAC-certified, world class PBMs - ProCare Pharmacy Benefit Manager and mc-21. The ProCare companies were founded in 1988 with the vision of providing innovative computer software systems and services to various sectors of the healthcare industry. ProCare processed their first pharmacy claim in 1994 using their proprietary, internally developed and managed systems, and expanded in 1998 to full-service pharmacy benefit management through the acquisition of NextGen PBM. Today, the ProCare companies also include two affiliated mail-order and specialty pharmacies, ProCare PharmacyCare, and are one of only four PBM providers that own all of their component systems. MC-Rx now provides comprehensive, industry-leading service to clients in Puerto Rico and the U.S.
1. Brannon, Ike (Jack Kemp Foundation) and Tony LoSasso (DePaul University). INSIGHT: Constraining Pharmacy Benefit Managers Will Not Reduce Drug Prices (January 6 2020). Bloomberg Law – Big Law Business. biglawbusiness.com/insight-constraining-pharmacy-benefit-managers-will-not-reduce-drug-prices.
2. Rowland, Christopher, "Under fire over high prices, Eli Lilly promised cheaper insulin in 2019. The result has some senators steamed", Washington Post, December 29, 2019, washingtonpost.com/business/economy/under-fire-over-high-prices-eli-lilly-promised-cheaper-insulin-in-2019-the-result-has-some-senators-steamed/2019/12/26/6c440b44-204e-11ea-86f3-3b5019d451db_story.html.
3. Luhby, Tami, "Democrats and Republicans promised to lower drug prices. Instead they've gone up again," CNN, January 5, 2020, cnn.com/2020/01/05/politics/2020-drug-price-increases/index.html.
4. Cohen, Joshua, "Prescription Drug Pricing Reduction Act may become law in 2020", Forbes, December 15, 2019, forbes.com/sites/joshuacohen/2019/12/15/prescription-drug-pricing-reduction-act-may-become-law-in-2020/#7e10e08d5537.