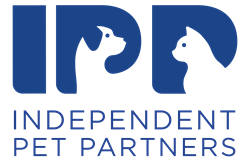 "The new feature allows pet parents the convenience of shopping online and purchasing their pet essentials from a local shop, supporting their community and workers, all while maintaining appropriate social distancing practices." —Tricia Nichols, IPP Chief Marketing Officer
NEW YORK (PRWEB) May 05, 2020
While this is a confusing time for many as the world continues to adjust to stay-at-home orders and other distancing policies, the desire to meet pets' needs while keeping them happy and healthy can be a challenge. To help make pet care easier, the parent company of independent brands Loyal Companion, Chuck & Don's Pet Food & Supplies, Kriser's Natural Pet, and Natural Pawz, referred to as Independent Pet Partners (IPP), has launched a nationwide buy online, pickup in store and curbside shopping option for customers.
"The new feature allows pet parents the convenience of shopping online and purchasing their pet essentials from a local shop, supporting their community and workers, all while maintaining appropriate social distancing practices," said Tricia Nichols, IPP Chief Marketing Officer. "We will continue to find helpful ways to serve our community of pet parents, so that pet wellness is available to them anytime, anywhere."
Along with the new convenience, IPP added previously unavailable products and in-store inventory to the online shopping portal, ensuring customers have access to more of what their pets need and items available to order for pickup are at their local store. To help ease financial constraints on customers, IPP is offering 10 percent off all buy online, pickup orders through August. Customers also earn rewards points on everything they buy.
As always, customers have the option to purchase items online and have them delivered straight to their doorstep. IPP also offers Autoship subscription services for pet owners to put wellness on repeat.
While IPP has launched this new shopping option for customers, most retail locations remain open across the country as an essential business. To ensure customer safety during the in-store experience, stores have implemented social distancing measures and adjusted hours to 10 a.m.-6 p.m.
Wellness Above All Else, Even During Shelter in Place
In addition to providing convenient shopping options for consumers, IPP has prioritized overall pet wellness during this stressful time. The wellness practices include a series of helpful at home guides on grooming, stress relief, nutrition, indoor play and mental health, inspired by its 5 Pillars of Pet Wellness™, which were developed through a collaboration between IPP and the University of Denver.
IPP's network of stores offers a community of pet experts dedicated to holistic pet wellness along with natural food, healthy treats, supplies, services (varies by location), advice and a comprehensive loyalty program.
To learn more about the new buy online, pickup in store and curbside offering for pet essentials and the 5 Pillars of Pet Wellness™, please visit each retailers' website.
About Independent Pet Partners
Independent Pet Partners (IPP), an early-stage company backed by private equity firm TPG Growth, is comprised of four brands of independent pet retailers: Loyal Companion, Chuck & Don's Pet Food & Supplies, Kriser's Natural Pet and Natural Pawz.
IPP was founded to bring together a community of experts from nutritionists to groomers to behaviorists dedicated to holistic pet wellness, with everything you need under one virtual and physical roof, including food, supplies and services. Disrupting the traditional retail and digital landscape, IPP provides its family of independent natural pet retailers the back-end infrastructure and support they need to foster the health and wellbeing of pets everywhere. IPP currently comprises 157 locations in 12 states and Washington, D.C. and 1,300 team members with over a million hours (and counting) of wellness training, including a focus on nutrition.