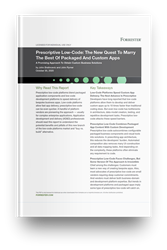 Ultimus embraced the prescriptive low-code philosophy for process-automation apps before the approach had a name.
NEW YORK (PRWEB) January 28, 2021
Ultimus announced today that Forrester Research, in their recent report Prescriptive Low-Code: The New Quest To Marry the Best of Packaged And Custom Apps, has described Ultimus as one of the vendors driving the next advance in low-code software development – Prescriptive Low-Code.
According to Forrester, "Prescriptive low-code platforms combine the best of packaged applications – pre-built and pre-architected solutions to specific business problems – with the best of development platforms – tools to create solutions that reflect what makes an enterprise unique". Forrester calls this new concept's advantages – speed of delivery, application integrity, performance, and flexibility – "irresistible" and forecasts it to catch on in some form.
Leigh Michl, Ultimus Chairman & CEO, said "We are pleased that this Forrester report recognizes that "Ultimus embraced the prescriptive low-code philosophy for process-automation apps before the approach had a name." As the only established player in the category, we've proven to our global customer base that it's the way to deliver complex, highly tailored apps faster, with higher quality, and, of course, cheaper. And it ensures that business processes are digitized in a way that keeps them aligned with the goals of digital transformation."