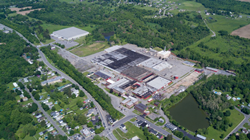 We would like to thank Briggs & Stratton, the City of Sherrill and Empire State Development in supporting us and helping to make this lease and the subsequent massive redevelopment all possible. A road to the future has truly been paved here, a place once thought to be impossible -Robert J. Trafford
SHERRILL, N.Y. (PRWEB) February 17, 2021
Index Investment Group and OX Group have signed a 15-year, 566,706 SF (52,648.7 M2) lease with Briggs & Stratton at their Silver City Industrial Campus in Sherrill, NY with two 10-year renewals. All the combined leases on the property have helped revive nearly 1000 jobs to the local community and state.
Silver City Industrial Campus is a 90+ acre large-scale industrial, manufacturing, distribution and logistics facility that features over 864,688 SF (80,332 M2) with ceiling heights ranging from 24' to 32' clear, numerous loading docks, on-site wastewater treatment plant and immediate access to NYS Thruway and major highways, minutes away from Syracuse, NY. The property has an additional 200,000 SF of contiguous developable space for future expansion.
"Key principals within Briggs & Stratton had the foresight to answer our calls and come to the table, working directly with our ownership team to develop a high quality and creative plan. We were able to secure the long term future of an important manufacturing household brand as well as to anchor the long term viability of a property that has proven to be historically significant to the community, state, and region. In coordinating and securing this opportunity at our facility, we have created (and maintained) numerous employment opportunities with growing wages to support the local economy. We have also created a manufacturing hub which has allowed the tenant to shift additional opportunities into the local market to further boost economic strength and viability for the area. We would like to thank Briggs & Stratton, the City of Sherrill and Empire State Development in supporting us and helping to make this lease and the subsequent massive redevelopment all possible. A road to the future has truly been paved here, a place once thought to be impossible." - Robert J. Trafford
Index has made numerous significant investments in industrial/logistics facilities and multi-family rental communities along the East Coast of the United States. The Jupiter-based real estate investment company has ongoing and completed twenty-four developments throughout North America.
About Index Investment Group
Index Investment Group is a dynamic real estate investment group based in Jupiter, Florida that has major investment initiatives throughout North America including apartment communities, industrial/logistics and senior living facilities. Index Investment develops intelligently designed properties throughout the East Coast of United States with a focus on Florida and contributes to the community through valuable and meaningful investments. For more information about Index Investment Group, visit http://www.indexinvest.com
###