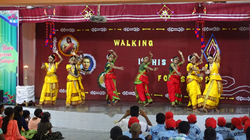 "We appreciate our donors who provided support to ensure that youth at Don Bosco Navajeevan have access to proper nutrition," said Father Timothy Ploch, interim director of Salesian Missions.
NEW ROCHELLE, N.Y. (PRWEB) February 23, 2023
Youth attending programs at Don Bosco Navajeevan in Hyderabad, India, had access to nutritional support thanks to donor funding from Salesian Missions, the U.S. development arm of the Salesians of Don Bosco. The funding provided rice-meals for 191 youth.
These youth include 175 street children, orphans, and poor and marginalized children abandoned by their parents and relatives. They are receiving services at Don Bosco Navajeevan centers. Of these youth, 155 are going to regular schools and colleges for their education, and 20 are in vocational training learning trades such as tailoring, carpentry and welding.
In addition to eating two meals in Don Bosco Navajeevan centers, youth can take lunch boxes prepared by staff to school. The food includes lemon rice, tomato rice, vegetable biryani and pudina (mint leaves) rice. Youth and the staff are happy with the quality of the food and appreciate the meal.
Two of the rice-meal recipients are sisters Lavanya, age 13, and Sravani, age 11, who came to Don Bosco Navajeevan after their father was abusive to their family. When their mother was able to bear the abuse, she opened a gas cylinder and burned herself when the girls were very young. Lavanya informed the police of the abuse, and their father was arrested.
Their aunts looked after all three children until he was released from jail. After they went back to living with him, the abuse continued and even became worse. He tried to sexually assault Lavanya. She was able to defend herself and he was sent to jail again.
Today, all three children are safe in Salesian programs accessing supportive services like counseling, and they are able to gain an education.
"We appreciate our donors who provided support to ensure that youth at Don Bosco Navajeevan have access to proper nutrition," said Father Timothy Ploch, interim director of Salesian Missions.
"The goal is always to reunite these children with their families or other relatives if it's safe to do so. Having the right nutrition enables these youth to fully participate in school and in counseling and rehabilitation programs that ensure they live a better life."
In addition to education, Don Bosco Navajeevan provides a youth center that places special emphasis on rescuing and rehabilitating children engaged in child labor. The program also offers shelter to child laborers and street children. Once a child arrives at the center, they receive shelter, food and clothing and are then eligible to participate in Salesian programs that focus on education and life skills training.
The goal is to help the children break the cycle of poverty and go on to lead productive lives free from abuse and forced labor. Supplementary classes at Don Bosco Navajeevan cater to those who have missed school and have fallen behind academically.
Since the beginning of the organization, 32,782 children have made contact with Salesian staff who work on the street providing support and help for street children living in the cities of Secunderabad and Hyderabad. The team has worked hard at reconnecting youth with their families have placed 7,500 back home after counseling. The team has also arranged job placement and rehabilitation for 3,700 youth.
Don Bosco Navajeevan also runs a shelter where youth can come and go freely without the fear of bullies, hostile police or other threats. The 24/7 shelter is in a rented building located very close to the Secunderabad Railway Station. Easy physical accessibility to the shelter is helpful as many children arrive via the railway or stay in the area begging. The shelter offers one of the first access points into the Don Bosco Navajeevan programs.
###
About Salesian Missions USA
Salesian Missions is headquartered in New Rochelle, NY, and is part of the Don Bosco Network—a worldwide federation of Salesian NGOs. The mission of the U.S.-based nonprofit Catholic organization is to raise funds for international programs that serve youth and families in poor communities around the globe. The Salesian missionaries are made up of priests, brothers and sisters, as well as laypeople—all dedicated to caring for poor children throughout the world in more than 130 countries and helping young people become self-sufficient by learning a trade that will help them gain employment. To date, more than 3 million youth have received services funded by Salesian Missions. These services and programs are provided to children regardless of race or religion. For more information, go to SalesianMissions.org.
Contact:
Laura Perillo
media@salesianmissions.org
908-406-3413 (text messages OK)
Twitter: @MissionNewswire
Newswire: MissionNewswire.org
Press room: https://salesianmissions.org/