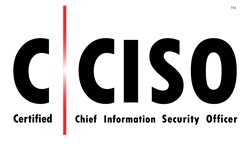 Management of information security concepts such as strategic alignment, financial planning, and executive leadership can all be crucial gaps as a mid-manager endeavors to move to upper, executive management roles.
Pune, India (PRWEB) July 28, 2015
The EC-Council Global CISO Summit 2015 India will see the launch of the prestigious C|CISO certification live training in India. The CCISO program was designed and developed exclusively to create Information Security leaders. The trainer for the prospective InfoSec leaders will be Mr. Burgess Cooper, Partner, Ernst & Young Global. Mr. Cooper is a perfect fit for the CCISO program as he brings his years of executive information security experience to instructing his class. His in-depth knowledge of governance programs, audit management, strategic business alignment, risk management and mitigation, etc. will infuse the class material with the information that ambitious information security professionals need to grow their careers.
The C|CISO certification is a high-end certification designed exclusively for InfoSec professionals who perform or aspire to perform the role of a Chief Information Security Officer. Material in the C|CISO program assumes a high-level understanding of technical topics and doesn't spend much time on strictly technical information, but rather on the application of technical knowledge to an information security executive's day-to-day work. The C|CISO aims to bridge the gap between the executive management knowledge that CISOs need and the technical knowledge that many aspiring CISOs have.
Management of information security concepts such as strategic alignment, financial planning, and executive leadership can all be crucial gaps as a mid-manager endeavors to move to upper, executive management roles. The C|CISO Training Program can be the key to successful transition to the highest ranks of information security management. In order to qualify to sit for the C|CISO Exam, applicants must be approved by EC-Council in order to verify that they have at least five years of information security management experience in each of the five C|CISO Domains. Applications with experience in three or less of the C|CISO Domains must first take authorized CCISO training before attempting the exam. Candidates with less experience may enter the associate C|CISO Program before working their way to the full C|CISO Certification.
About Burgess Cooper
Mr. Cooper is a Partner in Advisory Services team, Ernst & Young with a focus on the Information & Cyber Security in India. He has over 18 years of industry experience. He has completed his B.E. in Electronics and Telecommunications and M.B.A from Jamnalal Bajaj College of Management. He holds the following certifications: CISA, CISM, CGEIT, CISSP and CIPP. Burgess has over a decade of hands-on experience as a CISO responsible for Information Security, Privacy & Compliance across the Telecom and BFSI sector. As a CISO, he was responsible for setting up the Information Security & Privacy function in the organization and improving the information security posture of the organization by following a multi-domain, multi-level, defence-in-depth approach. He was instrumental in setting up the enterprise business security architecture for his company. Some of the key enterprise security solutions that he has assessed and designed are SIEM, IPS / IDS Systems, End Point (AV and HIPS), end-point encryption, MDM, DLP, Gateway devices, two-factor authentication, remote access solutions, and IAM solutions.
About EC-Council
The International Council of E-Commerce Consultants (EC-Council) is a member-based organization that certifies individuals in various e-business and security skills. EC Council is the owner and developer of the world-famous E-Council Certified Ethical Hacker (CEH), Computer Hacking Forensics Investigator (C|HFI), Certified Security Analyst (ECSA), License Penetration Tester (LPT) programs, and various others offered in over 60 countries around the globe. These certifications are recognized worldwide and have received endorsements from various government agencies including the US Federal Government via the Montgomery GI Bill, and the US Government National Security Agency (NSA) and the Committee on National Security Systems (CNSS) certifying EC-Council's Certified Ethical Hacking (CEH), Network Security Administrator (ENSA), Computer Hacking Forensics Investigator (CHFI), Disaster Recovery Professional (EDRP), Certified Security Analyst (E|CSA) and Licensed Penetration Tester (LPT) program for meeting the 4011, 4012, 4013A, 4014, 4015 and 4016 training standards for information security professionals and most recently EC-Council has received accreditation from the American National Standards Institute (ANSI). For more information about EC-Council, please visit http://www.eccouncil.org.