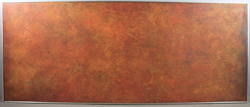 BEVERLY, Mass. (PRWEB) February 21, 2019
Kaminski Auctions March sale features a large selection of American, European, Russian, and Modern art. The 1,000 lot two-day sale showcases important paintings from a lifelong collector in Salem, Massachusetts.
A painting by the contemporary Indian Abstract Expressionist Natvar Bhavsar (b.1934) is a featured lot. 'Nove,' is an oversized canvas measuring approximately, 44 –by-108 inches and is composed of dry pigment on canvas. Natvar Bhavsar is an Abstract Expressionist and a contemporary of Mark Rothko and Andy Warhol. Known as a "Colorist," he uses color as a technique and is influenced with the many Indian textiles, Holy Festivals and experiences from his native India. He sifts the pigments onto canvas and allows air currents, his breath, and body movements to create each canvas. The painting on offer is colors of orange, persimmon and gold and is dated 1970, signed, with a gallery label verso, "Parker Street 470 Gallery."
Another from the Salem, Massachusetts collection is a work the by the "Realist "artist Joseph Hirsch (1910-1981), titled 'The Book,' which depicts three men absorbed in a book in the hand of the middle figure. The work is a large oil on canvas with a brass plaque on the front which reads 'The First Benjamin Pitman (figure) Prize, 134 Annual Exhibition - 1959 National Academy", having numerous other labels verso.
American paintings feature prominently in the sale with the top lot, a landscape of Monterey, California by the American Impressionist artist Guy Orland Rose, (March 1867-November 1925) valued at $40,000-$60,000. There is a beautiful marine scene of a ship in stormy seas by Stanley Meltzoff, initially done for 'The Saturday Evening Post with S.E.P. label verso. A 40-by-48 inch oil on canvas painting titled, 'Waterfront' is a view of the Hudson River at 34th Street by Arthur Kimmel Getz (1913-1996), best known for his work as an illustrator for The New Yorker magazine covers. This painting is a deaccessioned work from a New Britain, Connecticut museum.
American art continues with a surrealist painting of a snail by Gertrude Abercrombie, a view of Yosemite by Albert Biershtadt (1830-1903), and a deer in the woods by Arthur Fitzwilliam Tait (American, 1819-1905.) The Cape Ann artists, Emile Gruppe, Anthony Thieme, and John Terelak, are also represented in the sale.
European art abounds with an interior scene by Georges Rouault, a painting titled "Mother and Child" by Fernand Leger, a Barbizon landscape by Jean Baptiste Camille Corot, and a view of cattle and sheep in a field by the German/ American, artist Anton Braith.
The auction boasts an extensive offering of Russian paintings with a work by Victor Khromin (New York-Russian Federation, 1948-2015), titled 'Foresight,' as the headline lot. Completed between the years of 2008-2009, the abstract painting on offer is a heat-pressure sculpted surface. A brother-in-law of the artist consigned the piece. A Georgi Alexandrovich Lapchine (Russian, 1885-1950), "View of Amalfi" and works by Dimitri Arkadievich Nalbandian and Vladimir Donatovich Orlovskii (Russian, 1842-1914) are featured on Day Two as well.
Also crossing the auction block are Henry Moore sculptures that are Guss H. Noah Berlin editions, from a California estate and a Kahlil Gibran bronze of "Sibelius "with accompanying Kahlil Gibran book picturing the head.
From several New York City estates comes a collection of well-priced 19th and 20th-century silver. Twelve English sterling plates with an Irish coat of arms, hallmarked for London 1927-1928, with approximately 221.8 troy weight is estimated to fetch between $7,000-$9,000. A pair of Martele Gorham sterling silver vases, a Lunt Georgian style George II Sterling seven-piece tea set with tray, English Georgian sterling candlesticks and two spectacular sterling trumpet vases, to name a few. The trumpet vases are circa 1910; the first stands 22 inches high with approximately 62.8 troy weight and the second a Gorham cutout trumpet vase stands 25 1/4" tall with approximately 48.2 troy weight.
Two rare antique Persian Mottosham Keshan rugs from a New York estate are valued at $10,000-$15,00. The first is a rare pictorial rug depicting Darius and his ministers with Persian script, and Mikhi and Hastaligi writing in the corners and the second rug represents the story of Joseph, his father, and brothers with a Persian poem.
Two rare antique Persian Mottosham Keshan rugs from a New York estate are valued at $10,000-$15,00. The first is a rare pictorial rug depicting Darius and his ministers with Persian script, and Mikhi and Hastaligi writing in the corners. The second rug represents the story of Joseph, with his father and brothers and a Persian poem.
Furniture entries include of interest include an exceptional Aesthetic Movement cabinet made of ebony and burl wood with satinwood inlay, decorated with bronze beaded mounts and jasperware/Wedgwood medallions, from a West Palm Beach, Florida collection and a 19th-century French commode with marquetry inlay and a marble top.
Asian items of interest include a Chinese yellow and under glazed blue and white porcelain double gourd vase with the Qianlong mark on the base valued at $5,000-$7,000 from a New England collection and an exquisite pair of Chinese cloisonné vases from a New York collection.
Kaminski Auctions will follow this sale up with an auction March 30th and 31st, featuring the contents of the Daniels House, One Daniels Street, Salem, Massachusetts that dates back to 1667. Built originally, for the shipwright Stephen Daniels, the "Daniels House" is one of Salem's oldest residences. It features wide pine floors, exposed beams, and multiple fireplaces. A historic collection of colonial and Americana furniture, artwork, porcelain and furnishings from the house will be offered at this auction.
For more preview times, more information and to sign up to bid at these two exciting sales go to http://www.kaminskiauctions.com.