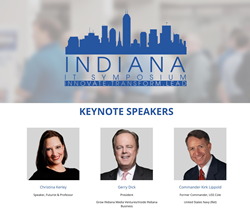 The Indiana IT Symposium is the region's annual major gathering of leaders, professionals, and academics working in the I.T. field.
INDIANAPOLIS (PRWEB) August 21, 2019
The Indianapolis chapter of the Society for Information Management (SIM) announces the 10th Annual Indiana IT Symposium is returning to Indianapolis at the Indiana Convention Center on September 25, 2019. This is a one-day, executive-level event designed for CIOs and their management teams. There will be over 200 CIOs, VPs, Directors, and Managers present at this year's Indiana IT Symposium.
The Indiana IT Symposium is the region's annual major gathering of leaders, professionals, and academics working in the I.T. field. As technology continues to redefine the boundaries of industries and replace markets' traditional geographic regions with borderless digital environments, it has become essential for local organizations to be aware of the global trends in their sectors and implement strategies to integrate them into their operations in order to be able to stay agile and maintain their competitive edge. This year's symposium will look at emerging I.T. trends and provide insights into innovative leadership skills in today's fast-paced digital age. This interactive event will also provide attendees with opportunities to collaborate and share their knowledge and experiences through a series of panels, break-out sessions, and social media.
Christina "CK" Kerley, speaker, futurist, and professor, will present the opening keynote "The Tech Megatrends". In this session, CK will take you on a tour of the next-gen technologies that belong on your radar, in your plans, and at the forefront of your 2019-2020 IT goals.
Yesterday was about billions of smartphones—but tomorrow belongs to the trillions of smart things digitizing the physical world. The AI Arms Race is officially on, and IT leaders must turn their operations into "real-time, data-driven, know-it-all organizations" to maintain a competitive advantage. Digital transformation is our destination . . . and blockchains may well hold the key in getting us there.
As headlines of job-killing robots abound, the robot's real story escapes our view: Automation's not taking our jobs away, it's giving executives back their time. Freed from administrative tasks, the "CoBots" will liberate employees to create new forms of value. A Reskilling Revolution—unrivaled in size, scope, and scale—will prepare our people for this fast-approaching future. And leap we must, while many in the US view disruption as a big threat, China sees it as a BIGGER opportunity (and is investing the billions to achieve it).
Gerry Dick, President of Grow INdiana Media Ventures/Inside INdiana Business, will deliver the lunch keynote presentation titled: "Gerry Dick Goes Inside INdiana Business". The creator and host of the Emmy-award winning, statewide business television show provides perspectives on the state's economy, trends, economic development deals and what Hoosier business leaders, entrepreneurs, ​and thought leaders are talking about.
Commander Kirk Lippold, former Commander of the USS Cole, will present the closing keynote for the day titled "Leadership and Accountability When it Matters". The privilege and burden of leadership comes with a level of accountability that many aspire to emulate, and anyone can rise-up to and achieve. Using a devastating suicide terrorist attack as a backdrop, Commander Kirk Lippold conveys how the principle of integrity created an environment for leadership where his crew felt imbued with a sense of ownership, seizing the opportunity to be responsible for their ship and not just their jobs. Their own sense of personal accountability and leadership proved to be a guiding principle in the crucible of combat. Lippold shares why his "Five Pillars of Leadership" are must-have business tenets for any team.
In addition to the three keynotes, there will be 20 breakout sessions, including high-level executive panels, roundtable workshops and individual speakers, throughout the day focused on security around the Cloud, data analytics, staff development, diversity in technology, machine learning, cloud computing, virtual reality, disaster recovery, regulatory compliance, leadership, and the latest technology products.
Attending the 2019 Indiana IT Symposium is an opportunity for leaders engaged in Technology to network and explore new ways to maintain a competitive advantage in a global economy. The ability to collaborate and exchange actionable information with peers makes this event rewarding and productive.
If you and your team would like to join us for a great day of education, networking, collaboration, and celebration, please register your team at http://www.indianaitsymposium.com.
NOTE: This event is closed to all non-sponsoring vendor companies, sales reps, and consultants. For sponsorship information, please contact Brian Gargano at brian(at)efminc.com.