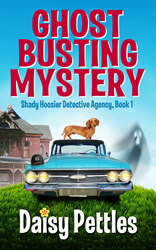 Daisy Pettles, the new Queen of Comic Crime Novels
BEDFORD, Ind. (PRWEB) August 23, 2018
When June Phillips, of Bedford, Indiana, ran out of mystery books to read, her daughter, Vicky Phillips, a writer, decided to author a new series of mystery and crime novels that would keep them both entertained through the long Indiana winters.
"My mother has a great sense of humor, and she loves Indiana history, so I decided to create for her the fictitious town of Knobby Waters, Indiana, and to populate that town with quirky rural characters and historical incidences of the kind we both knew and loved while growing up in Jackson and Lawrence Counties," said Phillips in speaking of her inspiration to create the Shady Hoosier Detective Agency book series.
Advance reviewers have praised Book 1 of the series, the Ghost Busting Mystery as, "A rare laugh-out-loud combination of murder, wit and mirth," dubbing Daisy Pettles as, "the new Queen of Comic Crime."
The Ghost Busting Mystery is set in the small river town of Knobby Waters, in fictitious Pawpaw County. It chronicles the crime-cracking hijinks of two nosy retired ladies, lifelong Baby Boomer friends, Ruby Jane Waskom and Veenie Goens. Short on funds, but high on hope, the two friends launch late-life careers as detectives.
Veenie and Ruby Jane always get their man – or ghost, or blind wiener dog, as the case may be. Ghosts, lost gold, hillbilly hoodlums and a wiener dog with a drinking problem all figure in the plot of Book One, the Ghost Busting Mystery, a comic crime novel.
Writing under the pen name Daisy Pettles, Ms. Phillips, who turns 60 this year, decided to make her detectives senior women, ages 67 and 71. Short on retirement funds, but full of spunk and spirit, the lifelong friends decide to take their natural nosiness to the professional level and sign on as PI trainees with the Shady Hoosier Detective Agency.
"Senior women and rural characters aren't well represented in fiction these days, but the original small-town detective was Miss Marple, of British fame, later Americanized as Jessica Fletcher in the "Murder She Wrote" TV series," says Phillips.
"In writing the Shady Hoosier book series I wanted to tap into nostalgic memories of the 60's and 70's in rural Indiana. I wanted to write a feel-good, humorous mystery series that both my mother and I could enjoy," said Phillips.
The Ghost Busting Mystery plays on real-life Hoosier historical elements, such as the lost gold from the Reno Brothers' historical Jackson County train robberies. A limestone plaque carved by turn-of-the-century stone crafters in Bedford plays a central role in what appears to be a ghost haunting in an old apple orchard. Knobby Waters is located on the East Fork of White River and has both a covered bridge and a brick plant, much like Medora, IN, where Phillips attended high school, graduating in 1977.
Book 1 of the series, the Ghost Busting Mystery, is being released under the pen name Daisy Pettles in e-book and print forms September 1, 2018. The mystery book will be available as a 99 cent download until the end of 2018. It will also be available for purchase in print form on Amazon or through local bookstores ($10.99).