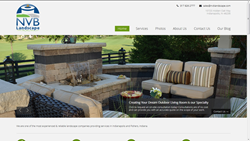 We felt that paver stone sealing was only major element left out of our maintenance and repair services, so we thought it is time we stretch our service line a bit.
Indianapolis, IN (PRWEB) May 02, 2014
NVB Landscape has now expanded its maintenance and repair services to paver stone sealing. The service is particularly advantageous for creating lasting colors in the paver stone and also reduces the chances of staining from general use. The service would complement their other services such as brush clean up, mulching, pruning and shearing.
One of the executives at NVB Landscape said during an interview recently, "We felt that paver stone sealing was only major element left out of our maintenance and repair services, so we thought it is time we stretch our service line a bit. We are a company that takes customer satisfaction as a paramount concern, so we keep looking for ways to serve our customers better. We pay meticulous attention to the details and customer specifications while installing paver stone, and retaining walls and patio or for that matter."
NVB Landscape is all about quality, reliability and affordability. All the products and services that company offers are not only conform to high standards, but are also competitively priced to suit every pocket and budget. This enables customers to create eye catching outer living areas. The company has great expertise in catering to the ever-changing landscaping needs of customers from different walks of life. The USP of the company is that it offers unparalleled landscaping services at highly affordable prices.
The executive further told us, "All the services and products that we offer come with 100 percent satisfaction guarantee and at prices that none of our competitors can match. We take great care to ensure every finished work is as per customer specification, manufacture or for that matter, site specifications."
NVB Landscape is the leading landscaping services provider based in Indianapolis. The company has formidable reputation to complete every work as per best of customer specifications and within agreed stipulated time without compromising on quality of work or material used. In addition to this, the company has expertise in winter landscaping which is all about creating dream patios with additions like fire pits, ledges, seats lighting together with offering mulching products. If you are looking for the best Indianapolis landscaping company, visit here.
About NVB Landscape:
Based in the US state of Indianapolis, NVB Landscape has expertise and years of experience to offer great landscaping services at highly affordable prices. The company offers unparalleled services, and meets all the deadlines and parameters to ensure utmost customer satisfaction. The company owes much to the team of highly professional, knowledgeable, skilled and expert landscapers with years of experience in creating great outdoor living areas and landscapes. NVB Landscape offers a range of services from landscaping of highest order to maintenance, landscaping playgrounds as well as rubber mulch in Indiana and its surrounding areas at competitive prices. The company also reaps the benefits of being a subsidiary of company that is a national distributor of residential and commercial playground equipment. When it comes to Indianapolis landscaping, they simply have no competitors. As reputable landscapers in Indiana and surrounding areas, the property owners have every reason to hire them.
Contact Details
NVB Landscape
10725 Hidden Oak Way
Indianapolis, IN 46236
Phone: 317 682 8873
Mail: info(at)nvblandscape(dot)com
Web: http://www.nvblandscape.com/