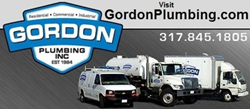 We get a lot of calls where we are being asked to fix a job that another local plumber started. This is because many of the local plumbing service companies don't have the proper equipment or experience
Indianapolis, IN (PRWEB) May 06, 2015
Indianapolis sewer repair by Gordon Plumbing is always performed by experienced and licensed plumbers who are highly trained sewer contractors. They are now offering a plumbing service discount which can be applied to residential and commercial customers who need sewer repair or trenchless sewer pipe replacement. The new coupon can be used for any sewer repair over $500 and offers the presenter of the coupon $50 off. The new offer expires on 08/01/2015 and must be mentioned while scheduling the initial home visit.
Sewer repair in Indianapolis can often times be difficult and contractors should be chosen carefully according to Jerry of Gordon Plumbing: "We get a lot of calls where we are being asked to fix a job that another local plumber started. This is because many of the local plumbing service companies don't have the proper equipment or experience to handle the excavation work required to properly repair a sewer line." Jerry and the team at Gordon Plumbing encounter situations everyday where inferior plumbing contractors are trying to handle jobs they can't.
Gordon Plumbing has over 80 trucks and continually invests in the most technologically advanced equipment available because it makes them more effective when it comes to properly servicing their residential and commercial customers according to Jerry. "Any sewer repair job requires experts who understand sewer systems and equipment that is specifically designed to handle the jobs that underground excavation presents." Businesses and homeowners alike can depend on Gordon Plumbing to be honest in their approach to how they solve the problems their customers are having.
In addition to being experienced sewer repair and replacement contractors Gordon Plumbing also provides leak detection in Indianapolis as well as all types of plumbing services in Marion County, Hamilton County, Hancock County, Shelby County, Johnson County, Morgan County, Hendricks County and Boone County. Leak detection is the process of determining exactly where the plumbing system is failing this includes concrete slab leak detection. "We can locate any leak within the plumbing system of both residential and commercial properties including homes and businesses in most situations. We have the best equipment available and our team is highly trained and experienced when it comes to leak detection in Indianapolis."
Gordon Plumbing also specializes in Indianapolis drain cleaning and drain repair including clog removal done by hydro-jetting or drain snake. Hydro-Jetting or Water Jetting as it is also called is the process of removing clogs in drain systems using a very high powered stream of water that literally cuts through any debris in the pipe. This type of equipment is very expensive and most small plumbers don't have water jetting equipment which leads them to attempting to perform plumbing repairs with inferior equipment according to Jerry of Gordon Plumbing. "Using a drain snake to clear a drain line that is clogged by tree roots or other stubborn clogs like grease clogs is not the best drain repair for the situation. We always carefully evaluate a situation and recommend the best drain repair to our customers for their situation."
Gordon Plumbing also offers galvanized water pipe replacement. They are experienced Indianapolis PEX Re-piping plumbers. When old galvanized water lines fail they actually rust from the inside out. That mean one they start leaking from the outside that the interior of the water pipe is completely failing. This first sign is usually a decrease in water pressure that worsens over time. This happens because rust is building up in the water line preventing the proper water pressure. Other indicators are rust colored water and the shower going cold when somebody flushes the toilet. Gordon Plumbing can evaluate galvanized pipes to determine their condition.
To learn more about Gordon Plumbing or backflow prevention in Indianapolis please visit their website. People are also encouraged to view their many positive online reviews for plumbers in Indianapolis. They are also invited to watch their informative YouTube videos or to read their press releases. To schedule service now please call (317) 845-1805.
Gordon Plumbing, Inc.
8711 Castle Park Dr
Indianapolis, IN 46256
(317) 845-1805
gordonplumbing.com