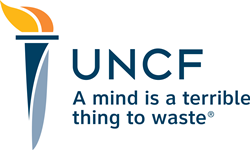 "UNCF is committed to equipping our students with the necessary tools to succeed," said Andrea Neely, regional development director, UNCF.
INDIANAPOLIS (PRWEB) December 07, 2018
UNCF (United Negro College Fund) will host the 15th Indianapolis Masked Ball Dec. 7 at the Indianapolis Marriott Downtown beginning at 6 p.m. The event benefits historically black colleges and universities (HBCUs), by helping UNCF change the narrative of HBCUs across the nation and equipping minority students with the resources necessary to transition into college and ultimately the workforce. More than 900 guests will attend this signature fundraising event, including Mayor Joseph Hogsett, city of Indianapolis; Dr. Michael L. Lomax, president and CEO, UNCF; and a host of business, civic and education leaders that support UNCF's work in getting students to and through college.
"Events such as the Indianapolis UNCF Masked Ball underline the importance of providing the necessary resources for our young people to be successful," said Lomax. "With a college education, students are contributing locally, through the jobs they create and the expenditures they make in the cities where they are located."
UNCF's landmark study, HBCUs Make America Strong: The Positive Economic Impact of Historically Black Colleges and Universities—commissioned by UNCF's Frederick D. Patterson Research Institute—shows that the 50,000-plus HBCU graduates in 2014 can expect total earnings of $130 billion over their lifetimes—that's 56 percent more than they could expect to earn without their college credentials.
Almost $850,000 was awarded in scholarships to Indiana students and almost $430,000 in scholarships for Indianapolis students in 2017-2018 with the help of the community—proving to be a good investment, as students with college degrees launch impactful careers.
"UNCF is committed to equipping our students with the necessary tools to succeed," said Andrea Neely, regional development director, UNCF. "Whether attending one of our HBCUs or local institutions such as Purdue and Indiana University, our goal is to build bridges that connect the next generation to a quality education."
Neely is the UNCF's regional development director for the Indiana region which includes Ohio and over the past 12 years has managed offices in Michigan, Missouri, DC and Pennsylvania, growing the Indiana region to #1 in the country by exceeding its fundraising goal year after year. Currently, the regional office has a 100% goal attainment average over the past three years.
"Her passion translates and motivates us to continue the work of expanding UNCF's blueprint of enriching the lives of young minority students," said Fred Mitchell, vice president UNCF Northern region.
Illustrating the value placed in receiving the community's support, superintendents Dr. Jeffrey Butts, Wayne Township; Dr. Tim Hanson, Warren Township; Dr. Lewis D. Ferebee, Indianapolis Public schools; Dr. Flora Reichanadter, Pike Township; Dr. Shawn Smith, Lawrence Township; and Dr. Nikki C. Woodson, Washington Township are all serving as honorary gala co-chairs. Anthem and Lilly return as presenting sponsors and Lumina Foundation as vice chair sponsor.
Tommy Davidson will serve as master of ceremonies with entertainment provided by national recording artist, Morris Day and the Time. The program will also include a VIP reception, program, dinner, dancing and a silent and live auction.
For more information or to purchase a ticket, which are $300, please go to UNCF.org/Indianapolis. Unable to attend, but still want to make a difference in student's life? Text UNCFINDY to 50555. Follow this event @IndyUNCF #UNCFIndianapolis
About UNCF
UNCF (the United Negro College Fund) is the nation's largest and most effective minority education organization. To serve youth, the community and the nation, UNCF supports students' education and development through scholarships and other programs, supports and strengthens its 37 member colleges and universities and advocates for the importance of minority education and college readiness. UNCF institutions and other historically black colleges and universities are highly effective, awarding 17 percent of African American baccalaureate degrees. UNCF administers more than 400 programs, including scholarship, internship and fellowship, mentoring, summer enrichment and curriculum and faculty development programs. Today, UNCF supports more than 60,000 students at over 1,100 colleges and universities across the country. Its logo features the UNCF torch of leadership in education and its widely recognized motto, "A mind is a terrible thing to waste."® Learn more at UNCF.org or for continuous updates and news, follow UNCF on Facebook, Twitter and Instagram at @UNCF.