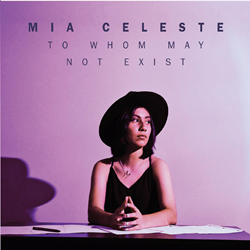 "The album concept was developed based on the desire of expressing my emotions during the pandemic and is a tribute to the perfect imperfections that life presents to us in so many colorful ways." — Mia Celeste
FREDERICK, Md. (PRWEB) January 28, 2022
FREDERICK, MD /PRWEB/ January 28, 2022 — Paredes Music Division (PMD), announced today the launch of its hugely anticipated 2022 album release (To Whom May Not Exist) performed and recorded by its leading indie music vocalist and producer Mia Celeste.
"The album concept was developed based on the desire of expressing my emotions during the pandemic and is a tribute to the perfect imperfections that life presents to us in so many colorful ways." — Mia Celeste
One of the album's single titled "Resentment" taps into the delicate complexities of narcissistic relationships and was born out of the premise that holding onto the past harbors toxic emotional pain with the equilibrium of love ultimately prevailing through acts of love and through selflessness.
The album projects a rollercoaster of emotions and Mia Celeste's sound along with her expressive voice will invite you to reflect and it will most definitely touch the hearts of many. For example, "Labyrinth", "Soliloquy", "Time" and "The Long Goodbye" are just a few title songs that are simply poetry emerging with music notes to create a unique sound that touches the surfaces of many genres like dreamy pop, jazz, bossa nova, latin-ballads, alternative-indie, and even folk pop.
Mia Celeste's debut album and its singles are available on the most popular digital platforms like Spotify, Apple Music, Deezer, SoundCloud, TikTok, and Pandora (to mention just a few).
The album also contains two symphony pieces produced and composed by Mia Celeste like "Dark Autumn" which creates a fusion between traditional classical music and modern pop. The tracks that will be promoted alongside the release of the album will be: "Dreams and Realities" "Shawn" "17 Mile Drive" and the title track: "To Whom May Not Exist" which was produced, arranged, composed, and performed by Mia Celeste.
"Our collaboration with Mia Celeste was based on the love and passion we share towards creating something that comes from the heart. Every music idea, production sound, lyric topic, and every life experience (no matter the hierarchy of its simplicity or complexity) was placed on the table; and so, we both emerged ourselves within our feelings and emotions to create the unknown." — JP (PMD's executive producer)
Visit: http://www.MiaCelesteMusic.com for more information.
Click here to stream on Spotify (https://open.spotify.com/artist/79Y7eDgOUCNV4mYfqc1sWa)
or Apple Music (https://music.apple.com/us/artist/mia-celeste/1439950337)
You can discover Mia Celeste's music videos by visiting her Official YouTube channel at https://www.youtube.com/channel/UCPG2_ynU6U8oRviG_QBKlsw
Follow Mia Celeste's music on your preferred platform: https://ffm.bio/miaceleste
For media inquiries, contact JP at Paredes Music Division (PMD) at 240- 421-7945 / pmd.JP2022@gmail.com / or visit us at http://www.ParedesMusicDivision.com
ABOUT MIA CELESTE:
Mia is more than just a 15-year-old singer-songwriter.
Mia Celeste is also a pianist, composer, and producer. She started playing the piano at the age of five. Born in Maryland with Hispanic- Latino roots.
Mia Celeste maintains a humble heart and as an independent artist she maintains an aesthetic vision of sound and lyrics, projecting authenticity in each song.
ABOUT PAREDES MUSIC DIVISION (PMD):
PMD strongly believes in the words and lifestyle: independence, innovation, and diversity.
PMD, takes pride in creating new sounds, new genres, and a new movement rooted in the underground, the unheard, and the one's who's passion go beyond the status quo.