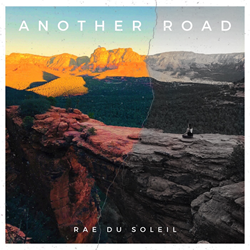 I never got a map for this.
LOS ANGELES (PRWEB) November 22, 2019
With her latest single, Rae du Soleil reflects on the coexistence of grief, gratitude and growth while on "Another Road." After the successful release of her more energetic debut single "I Love You Close," Rae du Soleil shows fans another side of who she is through the poignant and vulnerable lyrics of this heartfelt tune.
"Another Road" is the second single from Rae du Soleil's upcoming EP. The song begins with quiet strings that flow into a transfixing melody of acoustic guitar and drums. As a long-time performer and creative in the San Francisco Bay Area, Rae du Soleil truly showcases her songwriting skills in "Another Road."
This acoustic ballad speaks to the uncertainty of where life may lead, and the courage it takes to venture into the unknown. She sings, "I never got a map for this," and reveals her own experience down an unexpected path of pain, reckoning, recovery, acceptance, gratitude and trust - ultimately realizing the only map she ever needed was within her all along.
"Another Road" is available now on all major platforms. Take a look at Rae du Soleil's website to learn more about her journey and follow her on Instagram to stay updated on her latest activities.
About Rae du Soleil
Raelyn Kaplan, known by her stage name Rae du Soleil, is a talented indie artist hailing from San Francisco, CA. She's currently a sophomore in college, performing regularly in the Pacific Northwest and working on an interactive book of poetry. Raelyn has performed at several music festivals along the West Coast and was a finalist in Western's Got Talent. She performs regularly at local restaurants, markets, and private parties and became known for singing in both French and English.