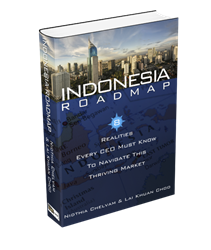 Indonesia Roadmap - your Google Map for business
Toronto, Canada (PRWEB) September 02, 2013
Black Card Books announces that Nidthia Chelvam and Lai Khuan Choo will come together on this unique project which has taken 3 years, and over 100 CEO and business leader interviews to put together.
The project, dubbed Indonesia Roadmap aims to spell out in no uncertain terms the realities CEOs must know to navigate this thriving market.
Indonesia is ranked #118 on Transparency International's Corruption Index, and #128 on The World Bank's Ease of Doing Business Index. Yet, it is an economic hot-bed that very few organizations can afford to not be in. Despite challenging CEOs with rampant claims of corruption, bureaucratic lethargy and a host of other realities, this market does have its share of conquerors.
According to Justin Doebele, Chief Editorial Advisor of Forbes Indonesia, Indonesia Roadmap is "for leaders, aspiring leaders and those who work for them – a great how-to manual for doing business in Indonesia and succeeding."
BW Plantations CEO, Halim Ashari believes that "its themes of bureaucracy, labour empowerment, scarcity of good talent and development challenges can be adopted by most business leaders."
Nidthia Chelvam has spent almost two decades across three continents in a variety of industries and roles. He was the Research Leader for Fortune Indonesia's Most Admired Companies of 2011 and 2013.
Lai Khuan Choo is a veteran of the corporate world with three decades of experience across multiple sectors, which give her the wisdom of the sages, having been there and seen it all.
Firdaus Alamsjah, Executive Dean of Bina Nusantara University (BINUS) International feels that "because of their personal backgrounds, Chelvam and Choo are able to offer unique perspectives on organizational transformation in Indonesia. Their unusual vantage points allow them to explain "East meets West" management ideals and then offer advice on how to apply them to other organizations."
Press Contact Information:
Black Card Books
Attn: Deborah Turton
T. +1 647 494 8686
E. deb(at)blackcardbooks(dot)com
W. http://www.blackcardbooks.com