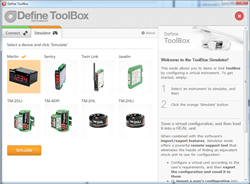 We've eliminated the need for the customer to box up the instrument and ship it back to us
Dallas, Texas (PRWEB) April 13, 2016
Industrial instrumentation manufacturer Define Instruments today released a major update to it's software.
The update includes a new "Simulation Mode" which emulates a connection to Define Instruments products.
Customers experiencing problems can now get a resolution faster as tech support can use the Simulation Mode to mirror the customer's application. This allows troubleshooting of any configuration issues without requiring the customer to return the instrument to Define Instruments' support center.
"We've eliminated the need to box up the instrument and ship it back to us," explains Define Instruments Sales Manager, Rolla Afrogheh.
"That means no more waiting around – with Simulation Mode customers can get back to finalizing their application, fast," he says.
Once the issue is resolved, the support team emails the correct configuration file to the customer who simply connects their instrument and loads the supplied file.
Simulation Mode also provides a way to take a "test drive" of the software. Previously the software was only viewable when connected to an instrument, the latest release now allows customers to explore the capabilities of the software using an emulated connection to range of Define Instruments products.
Another feature of the update is a lockdown mode allowing control of the access privileges to the configuration setup. Tech administrators grant permissions via password protection.
"When it comes to configuration changes, our customers have expressed a need to limit who gets to play with what in certain scenarios," says Mr Afrogheh.
The software update is available to download at http://www.defineinstruments.com/software
About Define Instruments
Define Instruments manufactures electronic instruments for industrial process automation, measurement and control. With over 26 years of innovation and industry expertise, Define's products are routinely used for applications in industries such as: Oil & Gas, Food Production, Pharma and Agriculture. It's key products: the Merlin and the Javelin are UL certified and Define Instruments is ISO9001:2008 International Quality Standard accredited.