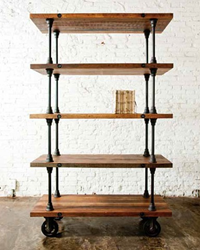 Simple reclaimed wood shelves and salvaged metal parts combine to make industrial style bookshelves that are both practical and striking, with a down-to-earth elegance that's perfect for a contemporary home.
(PRWEB) August 11, 2014
HomeThangs.com – the Online Home Improvement Store has made their goal to deliver the right product to the consumer. With that in mind, shopping and home design tips, as well as special product selections are being introduced.
A person's book collection can tell a lot about them – what they like, how they think, and even what's important to them. But how books are displayed matters, too, both for the presentation of the books themselves, and for the appearance of the room as a whole. HomeThangs.com has introduced a guide to industrial style bookshelves, which are both stylish and practical, with a casual, unpretentious appearance that's perfect for a contemporary home.
Unlike most antique style bookshelves where the finish work is the star, or modern bookshelves where an unusual design is key, the appeal of industrial style bookshelves lies in the materials used to make them. Simple reclaimed wood shelves are the star of the show, each with a one of a kind, natural patina of age that gives the shelves a sense of visual interest without any carved detailing or unusual layouts. The shelves are plenty big and spaced far enough apart for even very hefty tomes, and are wide and deep enough that the wood is still visible even when they're heavy laden with books.
This type of weathered, salvaged wood is a darling of homeowners and designers alike right now for the simple reason that it combines a practical look and feel with just enough age and antiquity to toe the line between casual and eye-catching. But the metal parts of industrial style bookshelves are important, too. Usually made of reclaimed metal pipes or machine parts, it's the metal supports between the wood planks that give these bookshelves their distinctive industrial look.
The metal support pieces, whether they're pipes or more standard posts or bars, have that gritty, slightly greasy, turn-of-the-century machine shop feel that's so iconic of an industrial style decor. They make for a sharp contrast to ordinary bookshelves, which are almost always made entirely of wood, and which are generally closed on the sides and back. Using metal pipes and posts rather than more wood planks makes industrial style bookshelves look and feel more open and spacious. Industrial style bookshelves are also often mounted on wheels rather than fixed, so even when they're locked in place, they feel more dynamic, interactive, and tactile.
There are plenty of designer industrial style bookshelves out there in a wide variety of sizes and designs, but they can also be built from fairly simple parts. Unlike professionally made shelves, which use metal pieces to secure the wood shelves in place and to one another, homemade shelves are more likely to have a sturdy framework of metal pipes with planks sitting loosely on top, but the final effect is similar to designer brands and relatively simple and inexpensive to assemble.
For a slightly more permanent setup, industrial style bookshelves can also be installed directly onto a wall. Rather than sitting flat on the floor or on wheels like a traditional bookshelf, the metal portions of these shelves secure directly to the wall. The final look here is much more industrial, with hints of old fashioned radiators or exposed utility pipes, which is perfect for a posh loft or even a slightly more rugged cottage or farmhouse style. That said, it's important to be sure the can support the weight of the books, which means placement and size will be limited to the location of the wall studs.
For a more in-depth look at industrial style bookshelves, check out the full article here, or take a look at more great designs from Nuevo Living and Zuo Modern.
HomeThangs.com is not only a home improvement superstore, it also provides expert design tips and a comprehensive shopping guide, taking the ideas from professional interior designers, and offering tips to the consumers on how to pick the products to best suit their needs.