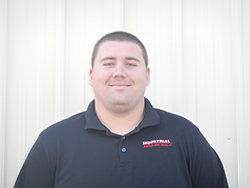 "Cory has been a huge part of our success over the past several years," stated David Botley, President, Industrial Caulk and Seal, "He has grown to represent (ICS's) benchmark in the consultative sales process."
DELTA, Pa. (PRWEB) April 05, 2019
Following a fantastic 4th quarter of 2018 and an unprecedented first quarter in 2019 Industrial Caulk and Seal has promoted Cory Flohr to Vice President Sales and Marketing. Flohr joined the ICS team in 2012 and has been an integral part of the growth of the organization throughout his tenure.
"Cory has been a huge part of our success over the past several years," stated David Botley, President, Industrial Caulk and Seal, "He has grown to represent (ICS's) benchmark in the consultative sales process."
A graduate of West Virginia University, Flohr learned the scopes and process' of Industrial Caulk and Seal from the ground up and has flourished in his current Project Manager capacity.
Cory Flohr can be reached directly at cflohr@industrialcaulkandseal.com.
About Industrial Caulk & Seal: ICS is a nationally recognized commercial contractor serving the Mid-Atlantic and North East. Founded in 2001, ICS has worked aggressively to set the industry standard in commercial concrete polishing, commercial caulking and semi-rigid joint fillers, commercial flooring and coatings, and comprehensive floor repair and restoration. Please visit http://www.industrialcaulkandseal.com for additional information.