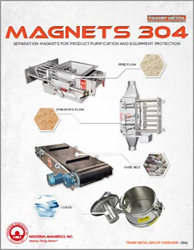 BOYNE CITY, Mich. (PRWEB) November 28, 2018
Industrial Magnetics, Inc. recently released a new catalog titled, "Separation Magnets for Product Purification and Equipment Protection".
The catalog features magnetic separation equipment for the removal or recovery of metals from a wide variety of dry and liquid processing applications in the food, pharmaceutical, chemical, mining, energy & recycling industries.
The new release highlights the company's magnetic separation products that have recently been HACCP International certified or USDA AMS accepted for ease in choosing the proper magnet for an application and given standard.
The catalog is available for download on the company's website at http://www.magnetics.com/media.asp, or by requesting a hard copy at 231.582.3100. For more information on IMI's Magnetic Separation Products please contact their Tramp Metal Group at 888.582-0821.