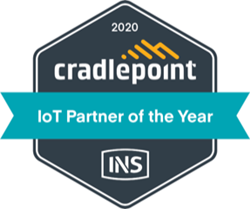 "Over our ten-year partnership with Cradlepoint, INS is proud to have won other awards but this one is special because it recognizes our achievements in our core market focus," said Richard Rogers, Director of INS's Wireless Divisi
RICHARDSON, Texas (PRWEB) May 13, 2021
Industrial Networking Solutions (INS), a national VAR focused on industrial and enterprise IoT solutions, today announced that Cradlepoint, the global leader in cloud-delivered LTE and 5G wireless network edge solutions, has awarded INS with the IoT Partner of the Year award. The award was presented to INS at Cradlepoint's Wireless WAN World Tour, the company's virtual Global Partner Summit, held on May 5-6, 2021.
Cradlepoint's Partner Awards recognize the excellent performance and significant achievements of its partners over the last year. Each recognized partner has demonstrated exceptional year-over-year growth and a continued commitment to positioning and selling Cradlepoint's Wireless WAN business solutions.
"We are honored to be recognized as Cradlepoint's 2020 IoT Partner of the Year. Over our ten-year partnership with Cradlepoint, INS is proud to have won other awards but this one is special because it recognizes our achievements in our core market focus," said Richard Rogers, Director of INS's Wireless Division. "The combination of Cradlepoint's excellent technology and INS' IoT expertise results in a partnership that should bring growth to both companies for years to come."
A global leader in cloud-delivered 4G and 5G wireless network edge solutions, Cradlepoint's NetCloud platform and cellular routers deliver a pervasive, secure, and software-defined Wireless WAN edge to connect people, places, and things anywhere. Cradlepoint is the first to deliver comprehensive 5G solutions for business, combining its NetCloud platform with a clean-sheet-of-paper design to support the full speed and capabilities of 5G. Over the last twenty years, INS has built a premier sales and engineering practice around IoT and mission-critical machine networking solutions. This singular focus has positioned INS well to ride the continued explosive growth of 5G and IoT technology.
"Cradlepoint brings best-in-class connectivity solutions to market by leveraging our global partner program and collaborating closely with our partners," says Eric Purcell, senior vice president of global partner sales at Cradlepoint. "Our diverse set of resellers, service providers, distributors, and technology partners are creating an ecosystem that is accelerating LTE and 5G Wireless WAN adoption. We're thrilled to be celebrating their incredible work."
To learn more about INS, please visit https://www.industrialnetworking.com/. For more information on Cradlepoint's Partner Program, visit https://cradlepoint.com/partners/for-partners/.
About INS
INS distributes products, offers technical support and provides IT/OT services for wired and wireless machine networking applications. Since its founding in 1998, INS has seen the industry space it serves variously labeled "Industrial Ethernet", "Machine-to-Machine" (M2M) and now the "Internet of Things" (IoT). Throughout these changes in industry jargon, though, one thing has stayed constant: INS's commitment to providing our customers with best-in-class products, support and services for their critical wired and wireless machine networking application.
About Cradlepoint
Cradlepoint is a global leader in cloud-delivered 4G and 5G wireless network edge solutions. Cradlepoint's NetCloud™ platform and cellular routers deliver a pervasive, secure, and software-defined Wireless WAN edge to connect people, places, and things — anywhere. More than 25,000 businesses and government agencies worldwide, including many Global 2000 organizations and top public sector agencies, rely on Cradlepoint to keep mission-critical sites, points of commerce, field forces, vehicles, and IoT devices always connected. Cradlepoint was founded in 2006, acquired by Ericsson in 2020, and operates today as a standalone subsidiary within Ericsson's Business Area Technologies and New Businesses. Cradlepoint is headquartered in Boise, Idaho, with development centers in Silicon Valley and India and international offices in the UK and Australia. http://www.cradlepoint.com