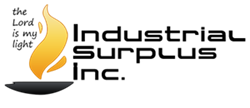 Committed to buying high and selling cheap, Industrial Surplus World will expand its reach even more in 2014
New York, New York (PRWEB) December 23, 2013
Industrial surplus materials and equipment serve a world of purposes for various industries and businesses. While some companies offer to buy and sell new or used machinery and parts, sellers are turned off by buyers that only offer to buy the items for a very low purchase price. In the same manner, there are buyers who are hesitant when considering to purchase industrial equipment due to their hefty price tags. In 2013, there were high fluctuations in sales in the industrial surplus sector, but the future appears to be promising beginning with 2014. The economy is beginning to show signs of recovery, meaning surplus industry will grow as well.
Industrial companies showcase the industrial equipment and materials that it currently sells. Only a few industrial surplus companies offer a wide range of products and services, nationwide. With the recent acquisition of products from several chemical plans and engineering plants, Industrial Surplus will continue to offer the largest range of surplus inventory in the nation. These products include all types of industrial valves, electrical equipment and materials, commercial and military electronic component parts, mining material and equipment, industrial and commercial generators, marine material and equipment, petrochemical process and construction equipment, as well as electronic components.
Committed to buying high and selling cheap, Industrial Surplus World will expand its reach even more in 2014 with the purchase of larger inventory from chemical plans and engineering facilities. Because Industrial Surplus Inc buys in bulk, the savings are passed to individuals or companies looking to buy used equipment or inventory products for good value.
Industrial Surplus World provides the most cost-competitive and comprehensive solutions possible. Striving to become the industry preference for surplus materials nationwide. For the past 25 years, Industrial Surplus World has demonstrated excellence in customer service.
WEBSITE: http://industrialsurplusworld.com