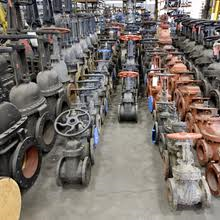 Having expertise with valves, experience and a strong network will help Industrial Surplus World to become the nation leader in valve buying and selling.
Houston, Texas (PRWEB) April 30, 2014
Industrial Surplus World is expanding rapidly and is aggressively buying inventory nationwide. All equipment will be considered. This includes valves, generators, transformers, circuit breakers, electrical equipment, electrical wire, boat equipment and more. All amounts will be considered, both small quantities and large quantities. With the rapid growth and the strong need for inventory, Industrial Surplus World has launched a nationwide buying frenzy to acquire equipment.
A new Valve Division was created at Industrial Surplus World. The new Valve Division was created to provide direct sales and support for valve buyers, specifically in the Chemical and Petroleum industry. This new Division will also nurture and build relationships with valve manufacturers and associated resources in the Valve Industry. "Having a strong relationship and network, combined with a strong knowledge and understanding of valves, will position Industrial Surplus World to become a leader in the Valve industry," according to Shawn Parker, Vice President of Industrial Surplus World. There is a high demand nationwide for valves today. But along the gulf coast and southern states, valves buying and selling are in high demand. The increase in valve sales is one the primary factors contributing toward Industrial Surplus World's growth and expansion.
The addition of nearly 200,000 square foot of land for the Valve Division at its new location in Houston, Texas indicates the growth potential and the need for inventory at this location. It is the very reason that Industrial Surplus World have established a relationship with Cameron International for valves. But, there is also a need for other products such as Allen Bradley Circuit Breakers, General Electric Transformers, Diesel Generators, Chillers, Vacuum Pumps, Actuators, and more. Industrial Surplus World need all equipment to fill this new warehouse.
Industrial Surplus World began more than 25 years ago in Houston, Texas by Gino Parker. Gino and his company have a great amount of experience and expertise in this field of industrial valves. In addition, Gino is experienced with all used and surplus equipment, scrap metal, and demolition services.