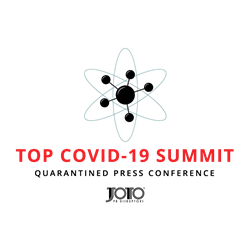 Promote first, communicate foremost. Number two, straighten out the administrative lines. Number three, get in sense of the economy. Follow every step in order—as if you don't, you will contract…and you won't be able to economize on what you don't have.
TAMPA BAY, Fla. (PRWEB) April 07, 2020
On March 31, PR agency JOTO PR Disruptors held its first TOP COVID-19 Summit: Quarantined Press Conference in what will be a bi-weekly webinar series covering multiple industries and topics. Led by Moderator Karla Jo Helms, Chief Evangelist and Anti-PR Strategist of JOTO PR Disruptors, the 3-hour press conference featured a panel of experts from the healthcare, supply chain, finance, technology, and eCommerce industries to discuss what is happening in regards to each panelist's zone of expertise. This diverse group provided real-time information as consumers and businesses all over the world tackle pivoting and pushing forward amidst COVID-19.
"We put together our panel based on requests from media and our contacts who are searching for stories of help, hope and solutions that are being implemented in one industry or business that could possibly be applied to other industries and businesses," Helms says. "All these industries are interrelated and interdependent. What is affecting one is affecting another in ways that we might not see. Likewise, what is helping one could also help another. The leaders on this panel want to help."
A few notable talking points during the press conference included:

SUPPLY CHAIN: John Kearney of Advanced Training Systems discussed recent impacts on the supply chain and the trucking industry, specifically highlighting the increased closures of truck stops, driver schools, and even DMVs.
ECOMMERCE: Monica Eaton-Cardone of Chargebacks911 touched on issues many industries are faced with in seeing more and more chargebacks from consumers throughout the crisis.
HEALTHCARE: Steve Treff and Barbara Rambo of MC-Rx gave insight on the prescription medication industry and the growing use of mail-in prescriptions. Dr. Craig Escudé of Health Risk Screening (HRS Inc.) talked about how COVID-19 implications—such as social distancing—particularly impinge on individuals with intellectual and developmental disabilities.
TECHNOLOGY: Mike McLaughlin and Marivi Stuchinsky of Technologent mentioned how many companies are adapting to establish and operate as remote workforces. Jim Vicatos of Choice IoT answered questions coming in about internet bandwidth and connectivity specifics (such as 5G and LTE). Sky Cassidy from MountainTop Data discussed some best practices when it comes to marketing and communication for companies during COVID-19.
FINANCE: Elliot Dinkin of Cowden Associates, Inc. cited information and data surrounding the subject of employee retention, options, and solutions as related to COVID-19. Jeff Mount of Real Intelligence, LLC expanded on financial advising topics like liquidity, money management, and more.
After the press conference, attendees with questions for the panelists or about these industries were encouraged to contact press@jotopr.com for more information. Additionally, JOTO PR Disruptors is currently putting together a resource guide for consumers and businesses to include informative tools, data, and other resources from industry experts as discussed during and after the press conference. Going forward, Helms says future press conferences will be shorter in length, with each event aimed to be more targeted and geared towards hearing from industry-specific experts to offer real-time insight, information, and solutions on their response to the current pandemic. At the end of the webinar, Helms stressed the importance of communication, which she says is critical in persevering through this crisis as a community.
"This is not the time to cut back on your communications. In all my years of crisis management, we operated on a primary principle: nature abhors a vacuum. And in a time of crisis, it seems that people tend to communicate less—do not fall into this. It's a trap. And those that don't follow the correct sequence of expansion during a financial crisis will contract and come out smaller," Helms says. "Promote first, communicate foremost. Number two, straighten out the administrative lines. Number three, get in sense of the economy. Follow every step in order—as if you don't, you will contract…and you won't be able to economize on what you don't have."
While the panel of experts is still being determined, the second event of the TOP COVID-19 Summit: Quarantined Press Conference bi-weekly series will focus on the healthcare industry and is scheduled for Tuesday, April 14th from 2-3PM EDT. All are welcome to attend. For more information and to sign up, visit the event's registration page.
About JOTO PR DisruptorsTM: 
After doing marketing research on a cross-section majority of 5,000 CEOs of fast-growth trajectory companies and finding out exactly how they used PR, how they measure it and how they wanted the PR industry to be different, PR veteran and innovator Karla Jo Helms created JOTO PR and established its entire business model on those research findings. Astute in recognizing industry changes since its launch in 2009, JOTO PR's team utilizes newly established patterns to create timely PR campaigns comprising both traditional and the latest proven media methods. This unique skill enables JOTO PR to continue to increase the market share and improve return on investment (ROI) for its clients, year after year—beating usual industry standards. Based in Tampa Bay, Florida, JOTO PR is an established international public relations agency. Today, all JOTO PR's processes are streamlined PR services that have become the hallmark of the JOTO PR name. For more information, visit JOTO PR online at http://www.jotopr.com. 
About Karla Jo Helms: 
Karla Jo Helms is the Chief Evangelist and Anti-PR Strategist for JOTO PR. Karla Jo learned firsthand how unforgiving business can be when millions of dollars are on the line—and how the control of public opinion often determines whether one company is happily chosen or another is brutally rejected. 
Being an alumna of crisis management, Karla Jo has worked with litigation attorneys, private investigators and the media to help restore companies of goodwill back into the good graces of public opinion—Karla Jo operates on the ethic of getting it right the first time, not relying on second chances, and doing what it takes to excel. 
Karla Jo has patterned her agency on the perfect balance of crisis management, entrepreneurial insight and proven public relations experience. Helms speaks globally on public relations, how the PR industry itself has lost its way and how, in the right hands, corporations can harness the power of PR to drive markets and impact market perception. 
###