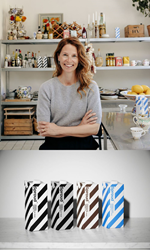 I am thrilled to be a part of the Sproud story and eager to watch them grow to new heights
MALMO, Sweden (PRWEB) November 17, 2021
Sproud, the Swedish-born sustainable pea milk brand, adds Sara Berger to the company as Global Chief Executive Officer. In this role, she will help lead Sproud's global expansion, oversee product development, expand the team and cultivate a strong company culture all while keeping Sproud's long-term sustainability mission at the forefront. Former Chief Executive Officer, Maria Tegman, will now be able to fully dedicate her time as Marketing Director and Co-Founder and she will work in tandem with Sara to accomplish Sproud's goals for the future.
"Sara's vast experience in fast-moving consumer goods combined with her knowledge about the food industry and passion surrounding the sustainability movement makes her a perfect fit to lead Sproud. We are confident she will help Sproud become the world's leading pea-forward dairy company," says Maria Tegman, Co-Founder of Sproud.
Sara Berger brings 20 years of industry experience to the team including her most recent role as Chief Executive Officer of SydGrönt, Sweden's largest local produce supplier of fresh fruits and vegetables. She has also held senior positions at numerous food companies where she drove the increase in plant-based options. Berger has served on many boards and is currently serving as a board member for the tech platform, Matilda Food Tech.
"In a competitive market, Sproud has done an incredible job positioning itself as a key player due to the health and environmental benefits of utilizing the yellow split pea. We have great food production sustainability initiatives in the works for 2022 as well as creative plans to differentiate Sproud from other milk alternatives on the market. I am thrilled to be a part of the Sproud story and eager to watch them grow to new heights," says Berger.
Berger joins Sproud following its 2020 launch into the U.S. market and most recently its multi-faceted creative campaign that promoted Sproud's launch in Whole Foods and Sprouts stores across the Los Angeles region, positioning Sproud as a brand to try and keep an eye on. Replacing the word "milk" with "***k", ("Born in Sweden. Tasty as ***K"), Sproud proved itself to be a company that isn't afraid to take risks and make bold choices in order to cut through the noise and compete with a crowded plant-based milk market.
As Sproud continues to expand and become recognized globally as a premium plant-based milk, Berger is working closely with Tegman to focus on Sproud's edgy creativity and sustainable mission in order to increase global growth for the brand.
For more information about Sproud check out, https://besproud.com/us/ and follow Sproud on Instagram at @BeSproud.
About Sproud
Sproud is a producer of plant-based milk made from yellow split peas. Established in 2017 by co-founders Maria Tegman, Nicklas Jungberg and Christopher Robertson, the company is headquartered in Malmö, with additional teams based in the UK and US. Sproud launched its first products in Sweden in 2018, and is currently sold in 18 markets around the world through major supermarkets and online retailers such as Waitrose, Ocado, Amazon, and Whole Foods Market.