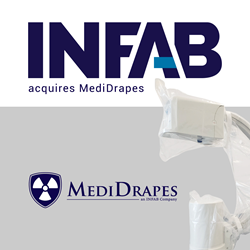 We feel the acquisition of MediDrapes provides us an excellent opportunity to expand our direct reach to hospitals and health systems which are seeing an increasing need for imaging-related procedures.
CAMARILLO, Calif. (PRWEB) January 20, 2021
INFAB, a medical manufacturer of radiation protection, today announced the acquisition of MediDrapes, Inc. ("MediDrapes" or the "Company"), a provider of sterile disposable protective drapes for medical imaging equipment. Infab Corporation ("Infab"), is a provider of healthcare personal protective equipment (PPE), including x-ray shielding materials, aprons, glasses, barriers, gloves, and cleaners. The financial terms of the transaction were not disclosed.
MediDrapes provides a suite of sterile disposable protective coverings for medical imaging equipment. It offers covers for full size and mini C-arms, fluoroscopes, and ultrasound machines, among other devices.
Infab designs and builds lightweight, comfortable, and technologically advanced radiation protection products. Infab's PPE products enable health care providers and patients to benefit from the diagnostic capabilities of imaging technology, functioning as a "one-stop-shop" for distributors and customers.
"We feel the acquisition of MediDrapes provides us an excellent opportunity to expand our direct reach to hospitals and health systems which are seeing an increasing need for imaging-related procedures," said Don Cusick, Exec. Chairman of the Board at Infab. "We are excited to add the MediDrapes products to our catalog."
Website:
https://www.infabcorp.com/infab-acquires-medidrapes/