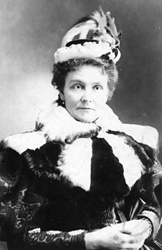 Women like Mrs. Rockefeller not only influenced their famous husbands, but had noteworthy accomplishments of their own.
Cleveland, Ohio (PRWEB) July 11, 2016
The Cleveland Storyteller, Dan Ruminski, announced a new talk about The Famous and Infamous Women of Millionaires' Row. While much has been written about the men of Millionaire Row—John D. Rockefeller, Samuel Mather and his brother William, Mark Hanna and Thomas Howard White to name a few—little has been presented about the wives of these great individuals. The Cleveland Storyteller's research uncovered fascinating, unheard tales of these women. His new talk features some of the better known women of the time, including:

Mrs. Rockefeller, her accomplishments and influence on her husband
Cassie Chadwick, an outlandish swindler, who died in prison
The Storyteller's personal experiences with the ghost of Julia Drury
Laura Mae Corrigan, a socialite turned heroin of WWII
"Women like Mrs. Rockefeller not only influenced their famous husbands, but had noteworthy accomplishments of their own" said Ruminski. "My new presentation also talks about some infamous characters and their misdeeds during the Gilded Age of Millionaire's Row!"
The new talk provides the audience with a personal look at these noteworthy women. The Cleveland Storyteller's collection of stories and historical discoveries unlock a remarkable cast of characters who left a legacy that we can learn from today. His audience will hear surprising details and untold stories not found in any textbook that will draw parallels between Millionaires' Row heyday and the renaissance Cleveland is experiencing now. The stories are presented in an entertaining fashion—no notes or computers, just the Cleveland Storyteller in his chair bringing these historical figures to life.
About
The Cleveland Storyteller's mission is to share the unique history that led the city to national and world recognition. Using little known, carefully researched stories, Dan Ruminski creates entertaining presentations of the history and helps promote Cleveland's greatness.
Mr. Ruminski was a teacher and coach at Gilmour Academy before buying his floor matting products business, Martinson-Nicholls. But his passion for history remained, and he has become a recognized expert on Cleveland history. When he gave his first talk on Millionaires' Row at library, where 40 were expected, over 100 showed up.
The Cleveland Storyteller continues to research the families and history of Northeast, Ohio. The clevelandstoryteller.com website features his DVD and book, speaking schedule, and information on how to contact him for fundraisers. Learn more at ClevelandStoryTeller.com, or call Dan Ruminski directly at (440) 951-1323.