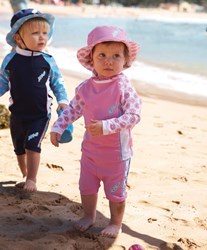 Our styles and cuts are molded around ease of wear for kids. So, they're sun safe, feeling pretty trendy, and completely comfortable
Sydney, NSW (PRWEB) August 19, 2013
Having an excellent reputation amongst parents around the globe for their sun safe swimwear line for children, Platypus Australia just received more accolades for their 2013 summer collection. Babyworld, a helpful online resource for UK parents with children of all ages, recently evaluated the Australian company's infant swimsuits and children's range. Since the report was posted, members of Babyworld have already responded favourably with 5-star reviews. Platypus Australia founder Ms. Karel Wheen says of the ready acceptance of her range, "It's great to see how quickly our UV-protective bathers for kids have been accepted by UK parents, they clearly enjoy our collection's combination of fashion and sun safety."
Despite their parents' best efforts, many children have already had up to 80% of their lifetime sun exposure by the time they reach adulthood. This means that shielding young ones against UV radiation in their early years is of utmost importance. However, keeping wriggly little bodies covered up with clothing and sunscreen under a hot sun has proven to be a very challenging task.
Thankfully, the team at Platypus Australia recognized this trial of parenthood and began incorporating the highest level of sun protection into their kid's swimwear back in 1996. Over the years, the company has perfected their product, achieving a UPF50+ rating which blocks out 97.5% of harmful ultraviolet radiation. Although weaving sun protection into their product was a great accomplishment, it was only part of the problem fixed.
Knowing kids want to look trendy like their parents and older counterparts, Ms. Wheen and her designers decided to take their influences from adult fashion trends, and not just the children's market. This inspiration can be seen in the latest summer range, which encompasses everything from infant swimsuits for girls to teenage co-ordinates for boys. The collection features eye appealing pattern-mixing and colour blocking, "There's a hint of vintage 60's and 70's in the designs, which is very hip right now."
The Platypus team didn't stop at just combining their UPF50+ rating along with on-trend designs, "We also know how important it is for children to be comfortable, if they're to keep their beachwear on." It's at this point when Ms. Wheen reveals the crowning element of her design process, "Our styles and cuts are molded around ease of wear for kids. So, they're sun safe, feeling pretty trendy, and completely comfortable."
Ms. Wheen attributes this comfort to a superior fabric called 'Matt Nylon Dupont Lycra', which is quick-drying, breathable and highly chlorine resistant. The company founder further explains that if kids aren't comfy while playing at the beach or pool, then "there's a good chance that whatever they're wearing is coming straight off; then no amount of fashionable or UV protective clothing will help them."
It's their unique combination of UV protection, style, and comfort that's helped Platypus become a parent favourite at UK site Babyworld. So far, all the user reviews score Playtpus Australia's summer range at 5-stars in the three available categories: Ease of Use, Quality, and Value for Money.
One Babyworld user, a parent of a toddler with extremely fair skin, said of the swimwear, "it's definitely been great for peace of mind during the blazing sunshine we've had." Another member remarks of their slender 7-year old daughter's sunshirt and swimsuit as "value for money as they are of such a good quality and look lovely too." Not surprisingly, these kinds of rave reviews aren't new to the Australian company, who've also been commended on other popular family websites, forums and blogs.
Just recently, Platypus Australia received 5-star commendations from renowned family resource website Babyworld. Members praise the company's UPF50+ fashionable pieces which meet both the ARPANSA (Australian Radiation Protection and Nuclear Safety Agency) and British Standard for Ultraviolet Radiation's strict rating criteria. Ranging from infant swimsuits for boys and girls, toddlers, pre-teens and teenagers, the Australian company provides trendy, high quality and sun-safe pieces including: swimsuits, board shorts, skirts, sun and rash shirts, caps bucket hats and more. To view the full range, click here.
About Platypus Australia
Since their beginnings in 1996, Platypus Australia's quality children's UV protective swimwear has spread to the UK, Europe, Asia and USA. They're export-ready garments are internationally acclaimed and in high demand since the effects of harsh ultraviolet radiation are now well known.
Platypus Australia's beachwear gives parents peace of mind knowing their children are safe, while having fun in the sun. For more information regarding their renowned product range, visit http://www.platypusaustralia.com.