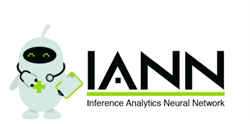 IANN is a next-gen text-based AI platform geared towards improving physician productivity and reducing errors in care delivery.
CHICAGO (PRWEB) December 02, 2020
Inference Analytics Inc., a Chicago-based healthcare Artificial Intelligence startup, today announced Beta availability of its Auto-Impression Assistant software on the Nuance® AI Marketplace. The Auto-Impression Assistant is the first radiology solution to be launched by Inference Analytics and relies on the Inference Analytics Neural Network platform (IANN). IANN is a next-gen text-based AI platform geared towards improving physician productivity and reducing errors in care delivery. The Nuance AI Marketplace is the first and largest portal with one-stop access to a wide range of AI diagnostic models from within the industry's most widely used radiology reporting platform.
The Inference Analytics Neural Network (IANN) Auto-Impression Assistant is the first non-pixel-based AI solution (i.e., an AI solution that uses AI to process text as opposed to images), available on the Nuance AI Marketplace and offers seamless real-time integration with Nuance's PowerScribe One platform. IANN is based on a text-based AI system that was trained by leveraging several million radiology reports from a premier academic hospital. Initial results were presented at 2019 RSNA.
Through deep learning methodologies designed to understand healthcare text and language, IANN augments and complements the roles played by physicians. The platform generates impressions based on a radiologist's findings and the patient's clinical history.
"We are mimicking how the human brain understands language. IANN's deep learning-based Natural Language Processing (NLP) identifies information from text and narratives using patterns similar to the human brain," said Inference Analytics Founder and CEO Farrukh Khan. "IANN replicates an experienced physician's ability to translate notes and reports into clinically meaningful conclusions and suggestions. The IANN Auto-Impression Assistant serves as a radiologist's assistant. Since radiologists can be expected to read and document more than one hundred cases in a single day, any technology that can help reduce the chances of burnout, fatigue and errors can have an enormous impact. Over the next few months we will have leading radiologists participate in Beta testing the Auto-impression Assistant, preparing the platform for general availability in early 2021."
"One of the core deficiencies in healthcare IT systems is the ability to understand and process unstructured healthcare data such as text, and traditional Natural Language Processing (NLP) rules-based technologies have not shown good results, creating the need for an NLP Platform like Inference Analytics, a system that is using next-generation techniques to understand text and the copious amounts of notes and narratives that physicians are creating. The IANN Auto-Impression Assistant is an example of what is possible with next generation NLP technology and how it can impact a radiologist's workflow." said Dr. Paul Chang, MD, Professor of Radiology, Vice Chair, Radiology Informatics, UChicago Medicine.
Nuance AI Marketplace
The Nuance AI Marketplace functions like an app store dedicated to radiology. It gives AI developers consolidated, at-scale access to users of the Nuance PowerScribe™ One platform, the radiology reporting system trusted by approximately 80 percent of U.S. radiologists across more than 8,000 connected healthcare facilities. Radiologists can discover, test, and use AI services from within their familiar PowerScribe reporting and workflow orchestration solutions to increase reporting efficiency and quality, and to help care teams improve patient outcomes and reduce healthcare costs.
A built-in feedback channel lets users share real-world results with developers for algorithm refinement and post-market surveillance. Hospital systems benefit with simplified purchasing and metrics showing AI usage, costs, and performance. The Nuance AI Marketplace has made it easy for partners like Inference Analytics to build and distribute AI services in an integrated and seamless manner. The AI Marketplace creates a win-win for partners like Inference Analytics and Nuance.
ABOUT INFERENCE ANALYTICS
Inference Analytics is developing a neural network-based AI platform called IANN (Inference Analytics Neural Network) to reduce healthcare inefficiencies and physician burnout while simultaneously improving the overall quality of care. We are piloting IANN at leading academic hospital systems, and we enjoy a strong strategic partnership with Nuance, one of the leading companies providing radiology solutions globally to radiologists. IANN is capable of understanding and applying medical language across multiple clinical specialties and domains. To learn more about IANN and how to become a Beta user, visit the Inference Analytics website.