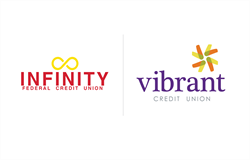 "Together, we will prove the power of what's possible when a credit union truly lives out the cooperative principles on which our industry was founded." – Infinity FCU President/CEO Elizabeth Hayes and Vibrant President/CEO Matt McCombs
WESTBROOK, Maine (PRWEB) August 01, 2019
Infinity Federal Credit Union (Westbrook, Maine) and Vibrant Credit Union (Moline, Illinois) announce their intent to merge, subject to member and regulatory approval.
The goal of combining the two credit unions is to build an innovative organization guided by the vision of becoming the world's most loved, most used and highest performing financial services organization grounded in the mission of doing banking differently to keep *you* a step ahead in life.
"Together, we will prove the power of what's possible when a credit union truly lives out the cooperative principles on which our industry was founded," said Infinity FCU President/CEO Elizabeth Hayes and Vibrant President/CEO Matt McCombs in a joint statement.
The combined credit union will build on the strengths of each and will represent nearly 70,000 members and over $1 billion in assets, led by McCombs as President/CEO and Hayes as Executive Vice President. The entity will be headquartered in Moline, Illinois with 17 branch locations in five states, including Illinois, Iowa, Indiana, and Maine with contact centers in Reno, Nevada and Westbrook, Maine. Maine will serve as the East Coast Hub.
Infinity FCU was founded in 1921 to serve Telephone Workers and Vibrant Credit Union was founded in 1935 to serve the workers of John Deere. Both Infinity FCU and Vibrant are steeped in history and have a shared commitment to improving the lives and wellbeing of their members. The members, communities and employees of both credit unions will benefit from consolidating forces, driving further growth and expansion in the communities and more benefits to members. There will be no reduction in the number of employees, rather, the combined credit union will provide more opportunities for employee growth and professional development.
About Infinity Federal Credit Union
As Maine's first credit union, Infinity Federal Credit Union has been serving its members since 1921, initially as the Telephone Workers Credit Union of Maine, then as Telco of New England FCU. Infinity FCU is now community-based, available to anyone who lives, works, worships or attends school in Cumberland and York counties and the city of Bangor, Maine. Infinity FCU is a not-for-profit cooperative organization owned by its members and guided by the vision: "We do banking differently to keep you a step ahead in life." For more information about Infinity FCU, please visit http://www.infinityfcu.com.
About Vibrant Credit Union
Vibrant Credit Union was started in 1935 to serve the workers of John Deere and is headquartered in Moline, Illinois. With assets over $800 million, Vibrant offers everything from savings and checking accounts to low rate mortgage and home equity programs. Vibrant has been recognized as one of the top 5 Credit Unions to Work for in the United States and the top place for Young Professionals to work. Vibrant has member service locations in Iowa, Illinois, and Indiana with a contact center in Reno, Nevada. Using a heavy relationship approach, Vibrant has been recognized as a true partner to its communities and membership in proving there is a better way to bank. For more information go to vibrantcreditunion.org.