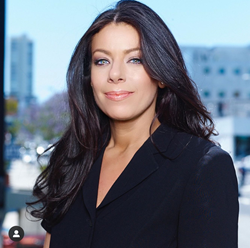 "Our communities want to support small businesses and this is an excellent way to do that. Not only can consumers keep up their tanning regimen with high quality products they can trust, they are helping the people they enjoy doing business with to generate income until this health emergency passes
LOS ANGELES (PRWEB) April 10, 2020
In response to the challenges facing salons, spas and others in the beauty industry during the COVID-19 pandemic, Infinity Sun, has devised a product, called Glow Boxes, to help them to continue to serve their clients – and stay in business.
Infinity Sun® manufactures all-natural, luxury self-tanning and skincare products that are available at more than 4,000 locations worldwide and online. Its tanning technology has been used by the likes of Jessica Alba, Jennifer Aniston and Giuliana Rancic and is the official Sunless Tanning brand for Miss CA USA, Miss FL USA and a number of other beauty pageants. When the Founder & CEO of Infinity Sun saw salons and spas closing to stem the spread of COVID-19, she sprang to action to help these businesses continue to operate in the new "normal" through introduction of Glow Boxes.
Glow Boxes include assortments of the company's luxury self-tanning and skincare products that businesses can then offer to clients to generate income. Included, as part of the Glow Box program, are marketing materials to simplify their outreach efforts to clients.
And based on the size of the global self-tanning products market, the demand is likely to be high. But the company believes there is a more important - and more human - reason why Glow Boxes will be a hit.
"Our communities want to support small businesses and this is an excellent way to do that. Not only can consumers keep up their tanning regimen with high quality products they can trust, they are helping the people they enjoy doing business with to generate income until this health emergency passes," said Veronique Munro, Founder and CEO, Infinity Sun. "Infinity Sun wants to give a helping hand to the small business owners in our industry affected by this crisis who want nothing more than to be able to serve their clients and support their families. We hope Glow Boxes play a role in helping them to do that."
"Veronique Munro is a real trailblazer in the sunless tanning industry and I am so excited about the Glow Box program. Being able to offer these products to my customers and the financial assistance this will provide is such a great opportunity." - Ashley Brunner, Owner of Natural Glo Boutique.
The Glow Boxes can be ordered wholesale by business owners, who, in turn, sell to their clients at retail prices. Infinity Sun also provides suggested email messages and social media posts to the participating salons and spas to support client communications. Infinity Sun then drop ships the products directly.
The boxes come in three varieties and include:

Signature Glow: Glow on The Go ® Sunless Tanning mist, Exfoliating body masque & Hydrating serum
Glow-Luxe: Glow on The Go ® Sunless Tanning mist, Hydrating serum, Dolce Dust® finishing powder & Applicator Brush
Ultimate Glow: Glow on The Go ® Sunless Tanning mist, Exfoliating body masque & Hydrating serum, Dolce Dust® finishing powder & Applicator Brush, Tanning mitt, Exfoliate mitt and back applicator.
CUSTOM GLOW BOXES – You can customize any combination of Infinity Sun retail products into a custom box.
The Glow Boxes contain Infinity Sun products that were developed for the professional market, in conjunction with world-renowned chemists and dermatologists. All products combine sunless tanning and luxury skincare, resulting in products that deliver skin enhancing results as well as a flawless and natural looking tan.
Infinity Sun located in West Hollywood; California launched the first multi-treatment skincare systems combining microtechnology High Volume Low Pressure (HVLP) turbine engineering. Infinity Sun's proprietary technology atomizes various treatment lotions into very fine mists, delivering the highest customized skincare and sunless tanning elixirs for the ultimate beautifying experience. Infinity Sun's clientele are among Hollywood's elite and used exclusively on Britney Spears Circus Tour. Celebrity fans include Jessica Alba, Carrie Ann Inaba, Giselle Bündchen, Paula Abdul, Adrien Grenier, Mandy Moore, David Beckham and many more.
For more information on how beauty consultants and spa and business owners can order Glow Boxes for their clients, go to http://www.infinitysun.com or call (323) 782-1049.