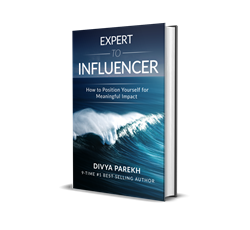 CARY, N.C. (PRWEB) November 21, 2019
The June 2019 Whalar Report, "The Science of Influencer," showed that influencer marketing is more effective in generating greater emotional intensity and higher memory encoding in participants when compared to other ads like those on TV, Facebook, and YouTube. Memory coding converts the perceived item of interest into a construct stored within the brain, which can be recalled later from the memory databank.
Thought Leader and Influence Architect Divya Parekh says, "The current influencer marketing and the rising negativity on social media platforms have hindered community building by distancing people from the influencer - the complete opposite of the desired result. She believes that a strategy stressing authenticity and a new perspective on what comprises an influencer will be a turnkey to merging constant change and revaluation of meaning and significance of human to human connection.
Working with this paradigm establishes a timeless approach that provides a solid foundation to achieve a deep understanding of what is required and contextualized to comprehend the truth as well as misperceptions. The realization leads to effortless adaptation and power, resulting in higher dimensions to the impact of the influencer.
In Expert to Influencer: How to Position Yourself for Meaningful Impact, Divya provides a framework with practical strategies, insights, and templates to build an influential life from inside out. This roadmap leads to building a felicitous personal brand that aligns with the influencer's values that resonates with his or her audience or target market. The author instructs on personal branding, sales, marketing, and business development with practicality and applying servant leadership. Starting with why one should even desire to be an influencer in the first place, the author goes on to lay out a systematic process divided into three phases which she describes as:
1. Design it!
2. Build it!
3. Live it!
Key Ideas and Learning Points
The Design It phase covers the ideological aspects and initial planning activities. During this phase, you wear the hat of an architect, precisely clarifying what you want your brand to be and how you want to show up. The book provides questions and templates to help readers think through the entire process, develop a picture of their desired outcome, and paint that picture in words.
The Build It phase is where you start giving tangibility to the desired outcome that you have conceptualized in the design phase. The author offers insights and ideas for creating your brand promise, crafting your tag line, content development, use of social media, community building, partnerships, and choosing a suitable platform.
In the third phase, Live It, the author emphasizes the need to truly personify the values professed in the preliminary stages, embody the desired brand, and show up with authenticity every time. She discusses themes like building trust through transparency, connecting with the community through giving, facing objections, and making course corrections when things go wrong. When you fully engage with the process instead of abdicating responsibility in the name of the delegation, the gains will be high.
Find the book today at Expert To Influencer: How To Position Yourself For Meaningful Impact
For more on Divya and the impact of her book, please go to Expert to Influencer: How to Get What You Truly Desire
Divya Parekh is a global business leadership and influence building advisor and motivational speaker known for her ability to help clients cultivate powerful partnerships. She has been the guide and coach to many industry leaders. Divya works in close collaboration with some of the top corporate leaders, entrepreneurs, and coaches looking for strategies that can help improve their personal and business culture.
Divya also provides business and influence thought leadership as a contributor to Forbes Coaches Council, Grit Daily and Thrive Global; as a bestselling author of leadership and entrepreneurial books, as a speaker to businesses, associations, and organizations; as an influencer cited in major media outlets; and as an advisor and board member. Divya loves nature, people, mindfulness, and dogs.