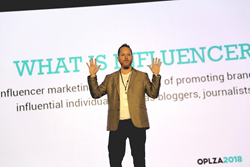 "To understand influencer marketing, we need to know where it started, where it is today, and what the future holds!" -Shane Barker
SACRAMENTO, Calif. (PRWEB) October 14, 2019
"INFLOW Global Summit '19 and B2I meetings will allow brands, agencies, and several industries' representatives to unlock the potential of influencer marketing and help their brand grow through digital collaborations," said Afsin Avci, co-founder of INFLOW Summits. "Influencer marketing marks a new era of marketing and communications presenting endless possibilities for brands and that is why we recruited Shane Barker, a UCLA professor and the leading keynote speaker in the influencer marketing space."
"INFLOW Global Summit '19 and B2I meetings will allow brands, agencies and several industries' representatives to unlock the potential of influencer marketing and help their brand grow through digital collaborations," said Afsin Avci, co-founder of INFLOW Summits. "Influencer marketing marks a new era of marketing and communications presenting endless possibilities for brands and that is why we recruited Shane Barker, a UCLA professor and the leading keynote speaker in the influencer marketing space."
The four-day INFLOW Global Summit & Awards '19 will take place Oct. 21-24 at the Four Seasons Hotel Istanbul at the Bosporus. The Summit is being held in partnership with the Presidency of the Republic of Turkey Directorate of Communications. This is the first year that INFLOW Global Summit and INFLOW Awards has been held as a single event.
Barker is an expert in the influencer market and was among the very first to realize the importance and impact of influencers in brand awareness. He collaborated with Amanda Russell at the University of California, Los Angeles (UCLA) to create the first ever influencer marketing course "Personal Branding and Becoming an Influencer" that they teach at the university.
The INFLOW Global Summit & Awards '19 is an opportunity for individuals in multiple industries to learn how to leverage the power of influencer marketing for their own brands. The methods are equally effective for established brands, entrepreneurs and startups to build credibility, drive purchasing decisions, and reach the consumers of today and the future.
About INFLOW
INFLOW (Influencers of the World) is a platform that actively brings together partner brands with leading bloggers, digital influencers, social media content creators and digital trendsetters from all over the world. We, at INFlOW, excel in organizing Brand-2-Influencer Summits at an international scale. Whether it is the travel, fashion, food, technology or any other industry where digital marketing is the key to growing, INFLOW paves the way for inventing new methods of creating marketing value and creates the opportunity to find the right digital influencer partners from anywhere in the world.