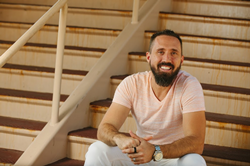 "SEO is such a technical industry that sometimes it's hard to understand, or the people that do break it down more simplistically are talking about old school tactics that don't work anymore," Burton said. "I wanted to correct that, and provide current information simplistically."
SALT LAKE CITY (PRWEB) August 24, 2020
In the modern age of business, simply having a website with a sleek design isn't enough, and no one knows this better than search engine optimization (SEO) expert Damon Burton. Since founding SEO National in 2007, his business practices have become the gold standard in eliminating the "smoke and mirrors" increasingly found within this industry.
Burton's new published book pulls back the curtain even further on SEO guidance, giving readers a clear outline for increasing visibility and profitability with search engines.
While SEO can get technical, Burton decided his book didn't have to be. The underlying concept behind Outrank is to provide readers with a balance of SEO education and motivation as they're introduced to stories and anecdotes throughout the book. He hopes that both beginners and experts will walk away with valuable information from a smooth read.
"SEO is such a technical industry that sometimes it's hard to understand, or the people that do break it down more simplistically are talking about old school tactics that don't work anymore," Burton said. "I wanted to correct that, and provide current information simplistically."
The book covers more than the blueprint for "outranking" online competition. Burton points out SEO myths and misconceptions and boldly makes predictions about the trends that will impact online visibility within the next five to 10 years.
For business owners looking to hire and leverage the right SEO company at the right time, Burton provides his expert advice and insights so readers can make informed decisions. However, this book might just be the resource they need to become their own SEO expert.
Outrank serves as more than the book's title. Burton was also awarded a trademark for the word. According to the SEO expert, the term embodies what his business and freely shared information is all about.
Look for more on Burton and his leading expertise in the SEO industry. He's been featured by Forbes, Entrepreneur, and countless other media outlets. He currently serves on the Forbes Agency Council and hosts the Learning from Others podcast for entrepreneurs.
About Damon Burton: The husband and father of three is best known for his SEO expertise. In 2007 he founded SEO National. His high-profile clients have included Utah Jazz's Team Store, Shark Tank-featured Spoonful of Comfort, INC 5000 company DealYard and more.