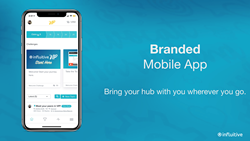 It's critical to engage customers and enable advocacy through a great mobile experience that's consistent across all channels.
TORONTO (PRWEB) September 19, 2019
Influitive Corporation—a leading provider of customer advocacy and community software—today announced the availability of its new custom-branded mobile app for iOS and Android devices to match the name, look, and feel of Influitive-powered advocate communities.
Customers now have complete control over text and imagery for improved promotion and search of their branded mobile app in the Apple App Store and Google Play Store. This is a first for forward-thinking companies building communities of advocates to super-charge their businesses.
According to ComScore, mobile users are spending 87 percent of their time in apps, versus just 13 percent on the web. As a result, branded mobile apps are strategically important in driving customer relationships and loyalty.
"In today's digital age, people work anywhere and spend hours on their phone every day," said Raif Barbaros, Chief Product and Technology Officer at Influitive. "It's critical to engage customers and enable advocacy through a great mobile experience that's consistent across all channels."
Key features of Influitive's new custom-branded mobile app include:

Push notifications – propelling engagement in communities to improve customer support, increase customer success, and expand customer advocacy.
Gamification – motivating hub members to complete challenges and acts of advocacy to earn points and redeem rewards on the go.
Mobile-first design – improving the advocate and customer experience through peer-to-peer interactions and learning in a highly-accessible branded app.
Search optimization – improving visibility and rank of a brand's mobile app in the app stores through App Store Optimization (ASO).
"Mobile has always been a critical part of Influitive's strategy, and with these applications, we can offer the best branding opportunity to our customers and, in turn, the most seamless advocate experience to their customers," said Influitive CEO, Dan McCall. "Advocating for the brands you love should be quick and easy, and with mobile, it can be part of the things you do every day."
The app is available for both iOS and Android, and once deployed, is free of charge for brand advocates to download. Influitive customers receive a special 20% discount when ordering their branded mobile app by October 31, 2019.
About Influitive
The most engaging advocate communities are powered by Influitive. Our easy-to-use platform combines industry-leading customer advocacy tools, expert services, and training with intelligent automation, gamification, and personalization features that drive extreme engagement and customer growth at scale—while minimizing administrative effort and time to value. Customer advocates create and share enriching content that spark peer-to-peer interactions, leading to authentic, positive customer experiences and greater levels of advocacy. Influitive works with customer-driven digital businesses, including nine of the top ten largest global software companies. Leading brands such as Cisco, Oracle, Adobe, ADP, and IBM trust Influitive to help foster collaboration, build trust, and deepen relationships with customers for top-line growth and bottom-line profits. Visit influitive.com to learn more.