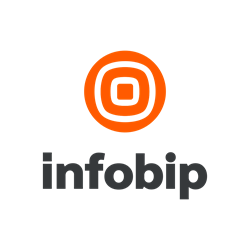 JERSEY CITY, N.J. (PRWEB) December 17, 2020
Infobip, a global cloud communications platform that enables businesses to build connected customer experiences across all stages of the customer journey at scale, today announced that its North American offices have become Great Place to Work-Certified™. Certification is a significant achievement, with 95% of employees agreeing that Infobip is a great place to work, in comparison to the average of 59% at other US-based companies.
"Being Great Place to Work-Certified™ is an honor, particularly during this trying year," says Yuri Fiaschi, Vice President of Global Sales at Infobip. "Given the times, we understand how hard it can be to come to work with a positive attitude and truly do your best. As such, we've worked hard to prioritize employee flexibility, engagement, overall satisfaction – and it's clear that our employees are recognizing that."
Based on employee survey responses, Infobip's managers do not play favorites, provide straightforward answers to subordinates, seek out and listen to junior staff, and deliver on their promises.
"We congratulate Infobip on their Certification," said Sarah Lewis-Kulin, Vice President of Best Workplace List Research at Great Place to Work. "Organizations that earn their employees' trust create great workplace cultures that deliver outstanding business results."
About Infobip
Infobip is a global cloud communications platform that enables businesses to build connected customer experiences across all stages of the customer journey at scale, with easy and contextualized interactions over customers' preferred channels. Accessed through a single platform, Infobip's omnichannel engagement, identity, user authentication, security, and contact center solutions help clients and partners overcome the complexity of consumer communications, grow their business, and increase loyalty – all in a fast, secure and reliable way. With over a decade of industry experience, Infobip has expanded to include 65+ offices on six continents offering natively built technology with the capacity to reach over seven billion mobile devices and 'things' in 190+ countries connected to over 800 telecom networks. The company serves and partners with leading mobile operators, messaging apps, banks, social networks, tech companies, and aggregators.
About Great Place to Work
Great Place to Work® is the global authority on workplace culture. Since 1992, they have surveyed more than 100 million employees around the world and used those deep insights to define what makes a great workplace: trust. Great Place to Work helps organizations quantify their culture and produce better business results by creating a high-trust work experience for all employees. Emprising®, their culture management platform, empowers leaders with the surveys, real-time reporting, and insights they need to make data-driven people decisions. Their unparalleled benchmark data is used to recognize Great Place to Work-Certified™ companies and the Best Workplaces™ in the US and more than 60 countries, including the 100 Best Companies to Work For® and World's Best list published annually in Fortune. Everything they do is driven by the mission to build a better world by helping every organization become a Great Place to Work For All™.
To learn more, visit greatplacetowork.com, listen to the podcast Better by Great Place to Work, and read "A Great Place to Work for All." Join the community on LinkedIn, Twitter, and Instagram.