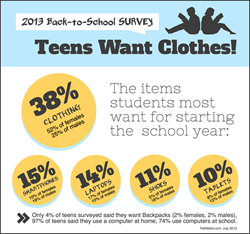 Clothing was the individual favorite item tallying 38% of teens tops choice for new school threads.
Beloit, Wisconsin (PRWEB) August 06, 2013
FatWallet launches a new Back-to-School Infographic featuring survey results for which items teens want most to start the 2013 school year. Clothing was the favorite item that teens want most, tallying 38%. However, their desire for new tech items, as a combined total, surpasses clothes, as 15% want smartphones, 14% want laptops and 10% want tablets. The national survey was conducted online by TNS on behalf of FatWallet.com in July 2013*.
The infographic also reveals other interesting survey results, including the top new computing products teens most want with laptops the clear favorite at 32%. When asked which smartphones they most want and the iPhone 5 was the popular choice among 35% of all surveyed teens that already own a cell phone. With back to school sales in full swing, online shoppers can find additional savings in coupons, discounts and cash back rewards at FatWallet.com.
To view complete survey results, and share or embed the Back to School Survey INFOGRAPHIC on your site, visit the Fatwallet Blog for details.
_____________
About FatWallet: As the preferred online coupons and cash back shopping resource for millions of smart consumers, FatWallet.com works closely with 1,500+ retailers like Kohl's, Newegg, and Amazon to publish special offers, discounts, coupon codes and Cash Back rewards to its members. The much celebrated FatWallet forums represent the pulse of an evolving online marketplace where smart consumers gather to share and learn. FatWallet is owned by Performance Marketing Brands (PMB) who owns and operates the world's most rewarding shopping programs. Through its family of distinct websites and reward programs, PMB users can get a great deal and earn money back every time they shop. PMB shoppers are expected to spend over $2 billion through PMB's websites and shopping programs in 2013.
*The national survey conducted online by TNS on behalf of FatWallet.com in July 2013 was fielded among 500 teen students ages 12-17, of which 71% are in high school and 50% each are male or female.