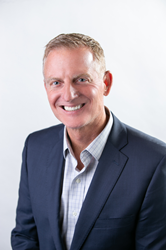 We are thrilled to have Kurt on-board as a dedicated resource for driving the sales of our software division
KENSINGTON, Md. (PRWEB) February 19, 2019
Infolinx, a division of Spacesaver Interiors and a leading provider of records and information management software announced Kurt Thies as Global Vice President of Sales.
Kurt has over 25 years of experience in strategic sales of records management solutions from his previous executive roles at several of the top global records management companies. His in-depth understanding of both the customer experience and the software itself, coupled with his tenacity in pursing new business will be integral in making Infolinx a successful, sales-driven organization.
Investing in a strong sales team was a strategic priority for Vice President and Business Unit leader, Julia Sweeney. "I was brought on to strengthen and grow the Infolinx team and brand; and identifying talent to cultivate the sales team was crucial," said Sweeney. "Kurt is in a league of his own in the records and information management industry. Kurt's consultative approach is key to the success of Infolinx. He brings a vast network and wealth of knowledge to the table and we are thrilled to have him onboard."
CEO of Spacesaver Systems Inc, Amy Hamilton, shared the same sentiments as Sweeney. "We are thrilled to have Kurt on-board as a dedicated resource for driving the sales of our software division," said Hamilton. "His experience in the records management field is invaluable to Infolinx as we begin to expand into new markets and gain new customers."
Kurt began his career in a law firm developing software to manage the firm's records. Being entrepreneurial, Kurt took this software and marketed it as a stand-alone solution—Accutrac Records Management Software. For 20 years, Kurt served as the Accutrac Software, Inc. Founder and CEO. In 2007, Accutrac was acquired by Iron Mountain, who hired Kurt as their Vice President of Strategy and Solutions. Since then, Kurt has served as a top executive at numerous global records management software companies. Time and time again, Kurt has proven to be a skilled innovator and leader, driving exponential growth for numerous sales teams and organizations across a variety of verticals.
Kurt has already begun several targeted sales campaigns at Infolinx. "My experience building sales strategies and designing customer-centered solutions made me a perfect fit for Infolinx," said Kurt. "The team at Infolinx is incredibly driven and skilled, and we're ready to pursue new markets and opportunities. Infolinx offers an adaptable, best-in-class solution, and I am thrilled to be in a position to provide our services in a new, innovative way."
About Infolinx:
As a leading provider of records and information management software, Infolinx enables organizations to track and manage the complete lifecycle of important physical and digital records. From record creation to disposition, Infolinx provides a streamlined solution for managing records and information at any scale to meet the compliance and information governance needs for today's modern workplace. Apply lifecycle rules or legal holds, secure access at any level, and create workflow approvals - all with a legally defensible audit trail. Available in the cloud or on-premises, Infolinx is scalable, 100% browser-based and implemented across several industry verticals including healthcare, pharmaceutical, government, financial services, and education. To learn more, visit http://www.infolinx.com.
About Spacesaver Interiors:
Spacesaver Interiors is a full-service commercial dealer representing over 70 quality manufacturers who share our commitment to sustainability, quality and customer service within the Washington metropolitan area. Clients come to Spacesaver Interiors when they need comprehensive, highly functional, and creative workplace solutions. Whether they require storage and furniture solutions or business services, we provide them with the highest level of service and experience in the business. To learn more, visit spacesaverinteriors.com.