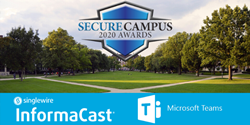 This award highlights the benefits InformaCast Fusion with Microsoft Teams offers to higher education institutions to reach their people in the applications they frequently use with critical messages. - Pat Scheckel
MADISON, Wis. (PRWEB) March 24, 2020
InformaCast Fusion with Microsoft Teams from Singlewire Software, a leading mass notification technology developer, has earned a 2020 Secure Campus Award from Campus Security & Life Safety magazine. The software won a Gold Award in the Emergency Notification/Mass Notification category. InformaCast Fusion with Microsoft Teams was selected by an independent panel of judges from the security industry based on criteria that included features, innovation, user friendliness, interoperability, quality, design, market opportunity, impact in the security industry, technical advances, and scalability.
"Singlewire Software is dedicated to providing college and university campuses with the tools they need to enhance safety and communication," said Pat Scheckel, vice president of product management at Singlewire Software. "This award highlights the benefits InformaCast Fusion with Microsoft Teams offers to higher education institutions to reach their people in the applications they frequently use with critical messages."
InformaCast Fusion with Microsoft Teams is a mass notification system that allows colleges and university campuses to add value to existing devices by leveraging them for safety and communication. With the ability to reach mobile and on-premises devices and well as collaboration tools like Microsoft Teams, InformaCast Fusion offers the speed, reach and flexibility organizations need to utilize technology that's already in place to keep people safe and informed. It can connect to a wide range of IoT devices, including IP phones, IP speakers, desktop computers, panic buttons, digital signage, mobile phones, door access control systems and more to provide organizations with a powerful mass notification ecosystem.
"We are pleased to be a vital part of providing solutions that will protect our children and young adults in the learning environment," said Ralph C. Jensen, editor-in-chief of Campus Security & Life Safety magazine. "Within the security industry, we all have a vested interest in protecting learning spaces and providing security to our valuable assets, the children."
To learn more about InformaCast Fusion with Microsoft Teams and how it can help colleges and universities provide a secure campus experience, visit https://www.singlewire.com/notification-informacast-and-microsoft-teams.
About Singlewire Software
Singlewire Software, based in Madison, Wis., is the developer of InformaCast, a leading software solution for fast and reliable emergency notifications. More than 7,000 organizations in over 50 countries use InformaCast for emergency mass notifications. Whether it's an active shooter, severe weather, or another crisis situation, InformaCast helps reach the right people, with the right information, to increase awareness, safety and security. To learn more, visit http://www.singlewire.com/informacast.
About 1105 Media's Infrastructure Solutions Group
1105 Media's Infrastructure Solutions Group includes several leading industry media brands that provide new product and technology solutions for security professionals: Campus Security & Life Safety, http://www.campuslifesecurity.com, Security Today, http://www.securitytoday.com, and GovSec. The brands' print, digital, custom media and research products integrate physical and IT security coverage and provide the smartest, most cost-effective solutions for reaching security decision makers.