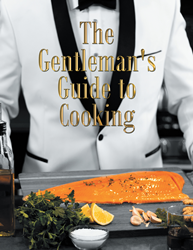 "After posting pictures and videos of my cooking, many of my family, friends, and followers encouraged me to write a cookbook and share my recipes. I am very excited to share the world of cuisine and introduce meals for readers to create in their own kitchens."
MINNEAPOLIS (PRWEB) May 03, 2021
Cooking is an art form that brings many together. In Randy Motilall's new book, "The Gentleman's Guide to Cooking," he offers readers a step-by-step cookbook with jaw-dropping recipes to cook in their own home. Motilall showcases his passion for cooking in each recipe that is presented throughout his debut book. From plating to executing a delicious dinner, readers will be excited to prepare these stunning dishes and drinks without spending big bucks in the process.
Throughout the book, Motilall's cooking experience shines through the handcrafted cocktails, sesame-ginger tuna tartare, cinnamon spice cake, smoked salmon eggs benedict, among more. Not only is his cookbook made for all skill levels, but he has also partnered up with the No Kid Hungry organization. For every book sold from April to October, the author will donate a dollar to provide a child with ten healthy meals. Readers will be learning tasty new recipes while also giving back to a fantastic association.
"I have always enjoyed cooking," said Motilall. "It has been a passion of mine from a very young age. For a while now, I have been cooking for family and friends, and now with social media, I have been able to share my creations with everyone else. After posting pictures and videos of my cooking, many of my family, friends, and followers encouraged me to write a cookbook and share my recipes. I am very excited to share the world of cuisine and introduce meals for readers to create in their own kitchens."
"The Gentleman's Guide to Cooking" provides Motilall's years of experience as a food lover by educating his audience with meals that everyone will enjoy. Each recipe is handmade for any skill set, and delicious photographs accompany each dish to get the reader ready to take on each cuisine. Motilall also tailors each recipe for certain dietary restrictions, so anyone will be able to whip up these delicious meals regardless of their eating palate.
Ultimately, readers will be giving back to a fantastic organization while learning well-crafted dishes from all around the world.
"The Gentleman's Guide to Cooking"
By Randy Motilall
ISBN: 978-1-6641-5904-4 (softcover); 978-1-6641-5905-1 (hardcover); 978-1-6641-5903-7 (eBook)
Available at Xlibris, Amazon and Barnes & Noble
About the author
Randy Motilall is a first-generation American with parents from the Caribbean and West Indies. He grew up in Minneapolis, Minnesota, with his parents and siblings. Motilall went to college and received two undergraduate degrees and two master's degrees. For the past ten years, he has worked in medical and pharmaceutical research for some of the top corporations in the world. He has traveled the world for work and for fun and experienced some of the best food one can imagine. Cooking has always been his passion and he loves to cook for people. Motilall felt that food brings people together, and he always wanted to pursue a career in cooking in some capacity. He hopes readers will be excited to learn these new recipes in his debut book and follow his cooking journey on his social media platforms. To learn more, please visit http://www.Thegentlemansguidetocooking.com.
General Inquiries, Review Copies & Interview Requests:
LAVIDGE – Phoenix
Grace Bywater
480-998-2600 x 534
gbywater(at)lavidge(dot)com