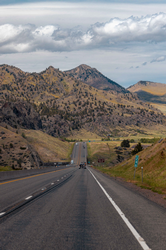 The GPR surveys were done at driving speed with no disruption to traffic and resulted in rebar depth maps across the full bridge deck surface
HELENA, Mont. (PRWEB) February 03, 2023
In summer of 2022, Infrasense evaluated the condition of 44 bridge decks located across the state of Montana using a suite of non-destructive methods. The deck evaluations were carried out using vehicle-based ground penetrating radar (GPR), infrared thermography (IR), and high-resolution video (HRV) equipment operated at driving speeds. Additional testing included the use of acoustic scanning and chloride ion concentration testing.
The GPR surveys were done at driving speed with no disruption to traffic and resulted in rebar depth maps across the full bridge deck surface. Infrared and acoustic/sounding surveys were both accomplished via vehicle setup to map out areas of rebar level delamination. HRV surveys captured video of the deck surface, which was post-processed into high-resolution plan view images of the decks via proprietary perspective correction software. These HRV images allowed the analysts to map out and quantify linear cracking, and areas of spalling and patching on the deck surfaces. Coring was done at 10 locations per bridge on select bridges in order to test for chloride ion concentration. These tests were done at two depths per core; one halfway to the upper rebar and the other at the top of the upper rebar matt. The concentration of chloride ions at the two depths per location were compared to a threshold of 2 lbs/cubic yard in order to assess the level of infiltration and likelihood of corrosion. The results from all testing methods were compiled to produce comprehensive conditions maps and quantities.
This past year, Infrasense evaluated the condition of nearly 15 million SF or bridge decks including nondestructive testing of decks in Alaska, Connecticut, Georgia, Illinois, Indiana, Massachusetts, Maryland, Montana, North Dakota, New York, South Carolina, Texas, Virginia, and Wisconsin. Infrasense methods have addressed a variety of bridge structure types, including asphalt, concrete, and epoxy overlays, stay-in-place forms, slab on girders, one-way slabs, and box girders. Infrasense bridge deck projects have analyzed structures ranging in size from small 20-foot-long stream crossings to major river crossings and viaducts up to 3 miles in length.
About Infrasense, Inc.
Since 1987, Infrasense, Inc. has applied advanced technologies to address the most difficult challenges in subsurface scanning. Infrasense engineers extract critical information using non-destructive methods from a diverse range of structures. In addition to providing ongoing subsurface evaluation services to clients across the country, the firm has also conducted numerous research programs to advance the field of subsurface detection and nondestructive evaluation. To learn more about Infrasense and the services we provide, visit our website:
http://www.infrasense.com