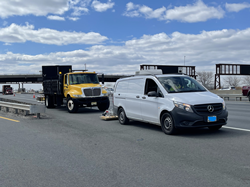 NEWARK, N.J. (PRWEB) February 22, 2023
Infrasense recently conducted a pavement structure evaluation of I-95 in New Jersey using 3D radar data collected by Innovative Subsurface Evaluation & Engineering, LLC (iSee). A vehicle-based 3D Ground Penetrating Radar (GPR) survey yielded continuous pavement layer thickness data along the outer lane of the prescribed project section. The Kontur DXG 1820 3D Radar step-frequency antenna houses 21 antennas that trigger in series across a range of frequencies, giving continuous lateral data with clarity for both shallow and deep targets. The results provided the client with valuable insights on the structural layers and locations of anomalies such as voids or buried objects under the pavement. Deliverables included a statistical summary and graphical datasets displaying colored contour plots of the asphalt thickness. These datasets help visualize how the constructed layers of the roadway change along the length and width of the outer lane and shoulder.
Over the past 12 months, Infrasense has completed pavement structure evaluations across over 3000 miles of roadways in Arizona, California, Canada, Georgia, Idaho, Illinois, Massachusetts, Montana, Maryland, New Hampshire, New Jersey, Rhode Island, South Carolina, Virginia, Vermont, and Wisconsin. Infrasense methods have addressed a variety of pavement structures including asphalt over granular base, composite pavements, continuously reinforce concrete pavements (CRCP), jointed plain concrete pavements (JPCP), and jointed reinforced concrete pavements (JRCP).
About Infrasense, Inc.
Since 1987, Infrasense, Inc. has applied advanced technologies to address the most difficult challenges in subsurface scanning. Infrasense's engineers nondestructively extract critical information from a diverse range of structures. In addition to providing ongoing subsurface evaluation services to clients across the country, the firm has also conducted numerous research programs to advance the field of subsurface detection and nondestructive evaluation. To learn more about Infrasense and the services we provide, visit our website:
http://www.infrasense.com