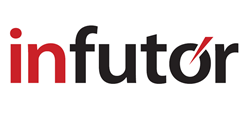 We are honored to be recognized by Inc. once again as one of America's fastest growing private companies.
Oakbrook Terrace, IL (PRWEB) August 17, 2017
Consumer identity management expert Infutor today announced it has been named to the 36th annual 2017 Inc. 5000, a ranking of America's fastest growing private companies. With a 42 percent growth rate from 2013 to 2016, Infutor is increasing its momentum and celebrating a number of 2017 milestones.
Capitalizing on strong market interest for its on-demand consumer identity management solutions, Infutor's aggressive growth trajectory has continued with first half 2017 new-client bookings up 155 percent over first half 2016 new-client bookings. Infutor's client retention rate is an impressive 98 percent, reflecting the company's robust solutions as well as its commitment to understanding client needs and exceeding their expectations. As a result of its rapid growth, Infutor also continues to expand in size. The company is on track to increase its employee base 50+% by the end of the year with new hires across sales, product, technology, finance, HR and marketing.
"We are very excited to be recognized by Inc. as one of America's fastest growing private companies. It is an honor to once again be a part of this distinguished, growth-oriented group," said Gary Walter, president and CEO of Infutor. "This accolade is a testament to the strength of our team and Infutor's steadfast commitment to delivering market leading, expert consumer identity management solutions that help marketers and risk professionals accurately identify consumers and drive engagement, personalization and risk mitigation."
Infutor helps verify and complete fractional consumer identities on demand, with critical name, phone, address and email information; then completes and enhances customer profiles with valuable demographic, psychographic, behavior, historical, lifestyle and other highly predictive attribute data. This information provides a comprehensive view of consumers through not just their purchase journeys but along their life journeys as well.
The 2017 Inc. 5000 is ranked according to percentage of revenue growth when comparing 2013 to 2016. To qualify, companies must be U.S.-based, privately held, for profit, and independent, and companies must have revenues of at least $2 million in 2016. Infutor's profile on Inc.'s website can be found at http://www.inc.com/profile/infutor-data-solutions. Infutor was also on the Inc. 5000 in 2014 and 2013.
About Infutor
Infutor is the expert in data-driven consumer identity management. The company is solely focused on enabling brands to instantly gain access to the most complete and accurate information about consumers, exactly when they need it, to make informed marketing and risk mitigation decisions. Infutor's mission is to deliver solutions that accurately identify consumers before, during and in-between engagements, giving brands a secure, privacy compliant foundation to improve inbound engagement and outbound omnichannel marketing reach, and to minimize losses due to fraud and non-payment. Led by information industry veterans, Infutor is a privately held company founded in 2003 with strategic investments from Norwest Venture Partners. Infutor is headquartered in Oakbrook Terrace, Ill. For more information, visit http://www.infutor.com.
###