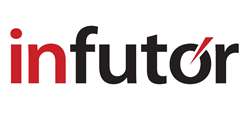 "We are excited that our growth is being recognized by Adweek as the brands that lead in today's environment are those that prioritize identity resolution and first party data enablement to extend advertising reach." -- Gary Walter, Infutor president and CEO
OAKBROOK TERRACE, Ill. (PRWEB) October 13, 2020
With brand marketers' increasing need for identity resolution and first party data enablement solutions, consumer identity management expert Infutor today announced they are ranked #9 among Adweek's Fastest Growing 10 top solution providers, part of the annual Adweek 100: Fastest Growing feature. Fastest Growing honors the 100 top agencies and 10 top solution providers — large and small, from all over the world — whose industry presence is on the rise. Accepting entries from every agency and solution provider category, this distinction is awarded to those organizations that have achieved exceptional growth over the past three years. This is the first year that solution providers have appeared on the list.
"The way brands identify consumers – whether that be through email addresses, hashed emails, MAIDS, phone numbers, or other identifiers - is constantly changing, and our growth has been fueled by addressing this challenge with innovation and the introduction of new technologies to link complex identity datasets," said Gary Walter, president and CEO of Infutor. "We are excited that our growth is being recognized by Adweek as the brands that lead in today's environment are those that prioritize identity resolution and first party data enablement to extend advertising reach."
Infutor's industry leading and privacy compliant consumer identity management and identity resolution services provide brands and marketers with the trusted foundational identity data they need to enhance their first party data and complete a 360-degree view of their consumers. CRM Freshlink, the company's latest unique data cleansing solution, helps brands improve the data they own, making it up to date and more complete.
Complete results of Adweek 100: Fastest Growing, including company profiles, can be found at https://www.adweek.com/category/fastest-growing-agencies/. Featured organizations include holding companies, independent agencies, both global and regional focused, as well as organizations providing industry services across the spectrum from mobile to lead-gen.
"2020 has been a challenging year, but these agencies and solution providers have shown how innovation breeds success," says Jeffrey Litvack, Adweek's chief executive officer. "Everyone in the advertising community can learn something from their examples."
"The only constant in advertising is change," added Lisa Granatstein, Adweek's editor, svp, programming. "The best way to see where the industry is headed is to see who's leading the pack, and Adweek 100: Fastest Growing always has a few surprises."
On Thursday, October 15, 2020, Adweek will celebrate these companies at the Adweek 100: Fastest Growing virtual event.
Adweek Fastest Growing Methodology
The 2020 Adweek 100: Fastest Growing is ranked according to percentage revenue growth when comparing 2017 to 2020. To qualify, companies must have been founded and generating a minimum revenue level by 2017. For more information on Adweek 100: Fastest Growing, visit https://www.adweek.com/category/fastest-growing-agencies/.
About Adweek
Adweek is the leading source of news and insight serving the brand marketing ecosystem. First published in 1979, Adweek's award-winning coverage reaches an engaged audience of more than 6 million professionals across platforms including print, digital, events, podcasts, newsletters, social media and mobile apps. As a touchstone of the advertising and marketing community, Adweek is an unparalleled resource for leaders across multiple industries who rely on its content to help them do their job better. For more information contact: pr@adweek.com
About Infutor
Infutor is the expert in data-driven consumer identity management. The company is solely focused on enabling brands to instantly gain access to the most complete and accurate information about consumers, exactly when they need it, to make informed marketing and risk mitigation decisions. Infutor's mission is to deliver solutions that accurately identify consumers before, during and in-between engagements, giving brands a secure, privacy compliant foundation to improve inbound engagement and outbound omnichannel marketing reach, and to minimize losses due to fraud and non-payment. Led by information industry veterans, Infutor is a privately held company founded in 2003 with strategic investments from Norwest Venture Partners. Infutor is headquartered in Oakbrook Terrace, Ill. For more information, visit http://www.infutor.com.
###