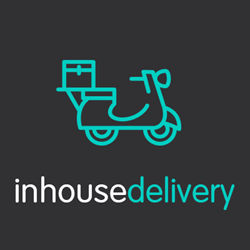 inhousedelivery.com gives restaurants back control over their deliveries and customer service
SAN DIEGO (PRWEB) October 29, 2020
inhousedelivery.com™, a developer of innovative delivery technology solutions, is pleased to announce the beta launch of their all-in-one delivery solution for restaurants. Available for US customers starting today, inhousedelivery.com™ provides restaurants with a seamless solution for managing online orders, employee scheduling, and driver dispatch, allowing businesses to quickly and easily manage deliveries internally.
Priced at a modest $99 / month subscription fee (plus $1 per delivery facilitation fee), using inhousedelivery.com, restaurants are now able to eliminate costly third-party delivery commissions.
For more information on how you can benefit from inhousedelivery.com™, visit: http://www.inhousedelivery.com.
According to a September 2020 study released by the National Restaurant Association, one in six restaurants - or a total of 100,000 establishments nationwide - have closed permanently in the six months following the first shutdown triggered by the pandemic. As restaurant owners shift their businesses to a delivery first model, in part due to statewide restrictions closing or limiting indoor dining, the pressure to retain employees and reduce operating expenses is at an all-time high. inhousedelivery.com's subscription-based model enables businesses to repurpose existing employees and eliminate the substantial commission costs charged by third-party delivery services.
"inhousedelivery.com gives restaurants back control over their deliveries and customer service," said Roger Avats, founder and CEO of inhousedelivery.com. "With indoor dining remaining restricted for the foreseeable future, restaurants need to implement solutions that enable them to efficiently and affordably deliver to their customers. inhousedelivery.com offers a driver management and dispatch solution that allows restaurants to bring delivery in-house and keep the profits previously taken by third-party apps."
Through the inhousedelivery.com™ platform, customers and restaurant managers can track orders in real-time via browser and mobile interfaces. Restaurants receive proof of delivery by either photo or signature and can easily request customer feedback post-delivery. Customers can contact drivers directly with any questions or changes directly through the inhousedelivery.com web interface or mobile app.
inhousedelivery.com™ integrates with existing online ordering platforms, including ChowNow, CloudWaitress, Delivery.com, Drizly, E-hungry, EatStreet, Gloria Food, GrubHub, Menufy, Slice, Squarespace, Toast online, Wix, and Zuppler.
Most restaurants cannot afford full-time drivers, which is why in addition to the launch of inhousedelivery.com, the company has also opened early registration of their secondary platform Driversharing.com, a service that allows restaurants to share their drivers both between locations and even different restaurants.
inhousedelivery.com features at a glance:

Workforce Management Features:
Manage driver availability with a fully integrated employee scheduling and time tracking solution
Schedule your workforce based on forecasted delivery demand
Share drivers across multiple locations
Manage time off and shift swaps directly from the app
Eliminate manual timesheets by using mobile time clocks
Delivery Features:

Order details
Pickup and delivery addresses
Optimized route with GPS navigation
Contact numbers and delivery instructions
Delivery confirmation
Customer feedback (post-delivery)
About inhousedelivery.com™
inhousedelivery.com™ is a best in class and cost-effective delivery solution that allows restaurants to keep their profits and avoid having to pay exorbitant commissions to third party delivery companies. The solution brings together online ordering, employee scheduling, and driver dispatch to bring delivery in house and give restaurants back control over their deliveries and customer service.
inhousedelivery.com™ is headquartered in San Diego. To learn more, visit http://www.inhousedelivery.com.