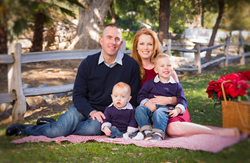 Our new location is a perfect place for people that want to detox and stay in treatment for 30, 60 or even 90 days in an upscale environment.
TEMECULA, Calif. (PRWEB) October 11, 2019
Inland Detox, Inc. has just moved to a new location in the sprawling, beautiful hills of Temecula, CA. The new location has incredible views of the Temecula Valley and it's the perfect place for long-term residential alcohol and substance abuse treatment. On 2.5 acres, the new facility offers both private rooms as well as double occupancy rooms, a 2nd home where all treatment takes place, a pool and recreational facilities.
"Inland Detox has been approved as a long-term residential treatment facility since we've opened. Our new location is a perfect place for people that want to detox and stay in treatment for 30, 60 or even 90 days in an upscale environment." said Kyle Hartfield, CEO of Inland Detox. "In the last 4 years serving clients from all over the country, we've found that location definitely matters. Our new facility is private and out-of-the-way but not too far from civilization. Our clients find it as a safe place to get high-quality treatment that's not too far away from their homes." Temecula, CA is located in Southwestern Riverside County, close to the San Diego International Airport, John Wayne Airport in Orange County, Ontario International Airport in San Bernardino County and only 90 miles from Los Angeles International Airport.
In addition to moving to a more upscale location that is conducive to long-term residential treatment, Inland Detox was recently approved as an In-Network provider of care for those that have TRICARE insurance. TRICARE is the insurance given to active duty service members, their spouses and dependents as well as National Guard members and their dependents, spouses, former spouses, Medal of Honor recipients and their families and others registered in the Defense Enrollment Eligibility Reporting System (DEERS).
"We are so happy to be in-network with TRICARE. It gives us such a rewarding feeling to give back to those that have served and to the families that support service members" said Kenneth Corioso, founder and Chief Operating Officer of Inland Detox. "We've noticed in talking to people with TRICARE insurance that they were not aware that private companies like Inland Detox could take TRICARE insurance and we are happy to be of service to them."
Many people find it difficult to find private drug and alcohol detox and rehab programs that accept TRICARE insurance. "Many of our clients were unaware TRICARE covers drug and alcohol rehab and it's no surprise to us. The Internet is flooded with advertisements for treatment and not all of them take TRICARE so finding a quality provider can be difficult" remarked Kyle Hartfield, CEO of Inland Detox, Inc. There are number of ways to locate drug and alcohol rehab and detox facilities that accept TRICARE insurance. First, call the number on the back of your TRICARE insurance card and as for a referral. Second, go online and use specific phrases such as "rehabs that take TRICARE" and last, call treatment programs you find online and ask them directly if they accept TRICARE. If they don't ask for a referral to a program that does.
Inland Detox, Inc. isn't only approved as an in-network provider of care with TRICARE insurance, it also maintains a dual-diagnosis and an Incidental Medical Services license. As a dual-diagnosis treatment facility, Inland Detox can help those with both substance abuse issues as well as co-occurring mental health disorders. The Incidental Medical Services license held by Inland Detox means our doctors and nurses can practice health care related to substance use disorders on-site. This means you won't be sent to a third party to see a doctor and all treatment can take place on-site.
About Inland Detox: Inland Detox is the premier drug and alcohol detox and long-term residential treatment provider in the Inland Empire. We serve clients throughout Southern California and throughout the United States. Our goal is to help you detox comfortably and give you the opportunity to stay for 30, 60 or 90 days for residential treatment.