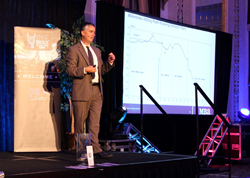 "We are in an excellent position to continue to attract and retain the industry's top producers and experts, to achieve record loan volume, and amplify our ability to provide our customers with the highest level of service."
PEWAUKEE, Wis. (PRWEB) September 27, 2018
Inlanta Mortgage kicked off its 25th anniversary this month with its national conference that featured the industry's top experts, national and local speakers, and a rockin' evening celebration. Bringing together more than 170 Inlanta staff for the three-day conference, its content-rich program focused on new technology to boost efficiencies and elevate customer service, current mortgage industry trends and opportunities, and insights into the hot markets and mortgage products.
Founder John Knowlton kicked off the event by sharing his vision and journey when establishing the company in 1993. Current CEO Nicholas DelTorto emphasized the importance of Inlanta's company culture and its focus on honesty and ethical treatment of customers as the backbone of Inlanta's enduring success. He also noted key factors in the company's ongoing success is its history of creating strong, strategic partnerships and its focus on making customers happy. "We recently partnered with several new technology companies to help us ramp up our ability to move loans more efficiently, work with customers more effectively and respond to market opportunities more quickly," he said.
Finally, current President and COO Paul Buege focused on the future, stating, "We are in an excellent position to continue to attract and retain the industry's top producers and experts, to achieve record loan volume, and amplify our ability to provide our customers with the highest level of service."
Highlights of the conference included:

Nationally renowned Michael Fratantoni, the Mortgage Bankers Association's Chief Economist, SVP of Research and Industry Technology, who shared his insights on current industry and market trends, the housing market, and his outlook for the economy;
Keynote speaker Mark E. Mitchell, current principal deputy assistant secretary of defense who shared his experiences as one of the first U.S. soldiers on the ground in Afghanistan after 9/11 where his actions earned him the Distinguished Service Cross and were portrayed in the recent movie, 12 Strong;
Inspirational speaker Jeff Anderson, the Wisconsin chapter's representative of Pets for Vets, Inlanta's charity of choice for 2018, who shared the organization's mission to help heal the emotional wounds of military veterans by using the power of the human-animal bond to provide a second chance for shelter animals by matching them to vets in need. Visit Pets for Vets to learn more about its mission.
Inlanta Mortgage plans to hold special events throughout its network of branch offices during the next year to recognize and celebrate its 25th anniversary, including open houses, seminars, webinars and other activities.
ABOUT INLANTA
Headquartered in Pewaukee, Wis., Inlanta Mortgage is a growing independent mortgage banker with 43 branch offices and a current network of more than 250 mortgage experts licensed throughout 21 states. Founded in 1993, the Wisconsin-based company is celebrating 25 years this year of helping homeowners with the home loans for their dreams through exceptional service and a suite of loan programs designed to meet each client's unique financial needs.
For more information about Inlanta Mortgage, please visit http://www.inlanta.com.