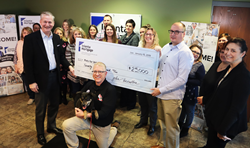 Going into our 25th anniversary, we knew we wanted to celebrate by giving back in a big way
(PRWEB) January 15, 2019
Inlanta Mortgage, Inc., announced its 2018 charity partnership with Pets for Vets earned $25,000 for the charity that helps pair rescue dogs with at-risk returning veterans. As part of its 25th anniversary celebration that kicked off in September, Inlanta selected Pets for Vets as the beneficiary of its annual charity partnership.
"Going into our 25th anniversary, we knew we wanted to celebrate by giving back in a big way," said Paul Buege, Inlanta's President and COO. "Because our founder and chairman of the board John Knowlton is a devoted supporter of rescue dogs, and as an organization that is committed to supporting our veterans, we knew this organization that blends these two would have deep meaning for our clients, referral partners and our awesome team of employees."
In June, Inlanta announced that it would make a donation for every loan closed through the end of the year. In addition, the company held various employee fundraisers both in the home office and branch offices, including its annual charity raffle held during its National Conference in September. The proceeds from the campaign were presented today to Dan Zealley, executive director for the Milwaukee, Wis., area chapter of Pets for Vets.
"The donation from Inlanta Mortgage and its customers will go a long way to helping both veterans and shelter dogs to get a second chance," said Zealley. "These companion animals assist in the healing our service members. Thank you to all of our veterans!!!"
About Pets for Vets:
Pets for Vets is a 501(c)3 organization that unites military veterans with shelter pets. This program supports veterans who may be experiencing anxiety, depression or stress, while providing a second chance for animals who will be rescued, trained and paired with veterans who could benefit from the companionship. For more information on Pets for Vets, visit its https://www.petsforvets.com/milwaukee-wi.
About Inlanta:
Headquartered in Pewaukee, Wis., Inlanta Mortgage is a growing independent mortgage banker with 40 branch offices and a current network of more than 250 mortgage experts licensed throughout 22 states. Founded in 1993, the Wisconsin-based company is celebrating 25 years of helping homeowners with the home loans for their dreams through exceptional service and a suite of loan programs designed to meet each client's unique financial needs.
For more information about Inlanta Mortgage, please visit http://www.inlanta.com.