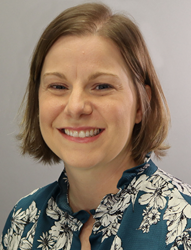 "This new business unit is just one more way Inlanta strives to go above and beyond in supporting our loan professionals in ways that are unique to our industry."
PEWAUKEE, Wis. (PRWEB) July 21, 2019
Inlanta Mortgage, Inc., is pleased to announce the promotion of Andrea Puricelli to lead its new business unit, Production Engagement Resource Center, or PERC. In her new role as PERC manager, Puricelli will be responsible for the proactive management and development of key organizational sales resources. She will lead the PERC team to bring training initiatives across business groups and will advance the utilization of key technology business solutions to win greater loan origination volume while improving the consumer experience.
"This new business unit is just one more way Inlanta strives to go above and beyond in supporting our loan professionals in ways that are unique to our industry," said Paul Buege, president and chief operating officer. "I'm incredibly pleased to have Andrea, who is already a proven professional and leader, managing this new group that we feel is a true game-changer in how we support our loan officers."
Puricelli joined Inlanta in 2011 as an underwriter and was promoted to operations underwriting specialist in 2016 where she worked closely with Inlanta's loan officers, underwriters and processors to provide guidance and training support for Inlanta's comprehensive portfolio of loan products.
"At Inlanta, we work to provide extensive centralized resources that allow our loan officers to focus on what they do best – working with clients. I'm excited for this new opportunity to lead a new team in helping deliver even more support to our exceptional loan officers," said Puricelli.
Puricelli graduated from the University of Missouri - St. Louis with a bachelor's degree in economics with a minor in business administration.
ABOUT INLANTA
Headquartered in Pewaukee, Wis., Inlanta Mortgage is a growing independent mortgage banker with 38 branch offices and a current network of more than 250 mortgage experts licensed throughout 22 states. Founded in 1993, the Wisconsin-based company helps homeowners buy the home loans for their dreams through exceptional service and a suite of loan programs designed to meet each client's unique financial needs.
Inlanta is a nationally recognized leader in the mortgage industry, named a 2019 Best Companies to Work For by National Mortgage News; a Top Workplace by the Milwaukee Journal Sentinel for 2019; and a Top 10 Mortgage Company in Customers Satisfaction for 2018 by SocialSurvey. In addition, multiple loan officers and executives have received national honors by several professional mortgage organizations for outstanding performance in their roles.
For more information about Inlanta Mortgage, please visit http://www.inlanta.com.