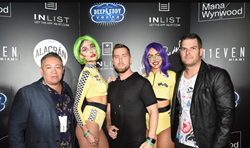 New York, NY (PRWEB) December 08, 2018
Art Basel and Miami Art Week are now officially in full swing and the worlds glitterati and jet set have descended upon Miami in masses, as they all talk about who attended InLists spectacular Royal Racer kick-off party. The amazing fete brought together more than you would expect from Art Week Miami including celebrity sightings, interactive installations, immersive art, endless alcohol, and even drone racing.
For the fourth year in a row, the combined forces of InList's exclusive membership and Moishe Mana's influence in the art world brought together the likes of Lance Bass, Michael Turchin, Grammy award winner Cedric Gervais, Miss Universe Ariadna Gutierrez, Grammy award winner Roger Sanchez, Victoria's Secret Barbara Fiahlo, Xuitcasecity, Gilda Garza, Miguel Ferro, Talina Navide, Model Shaun Ross, Tiffany Meia, Valeria Orsini, Eddy Bogeart, Millionaire_Mentor Jason Stone and Wife Christi Stone. .......
Guests were immersed into the world of "Royal Racer" created by world renown artist Miguel Paredes and his Speed Racer inspired paintings that brought back a retro comic feel throughout the venue as well as being surrounded by graffiti art on every wall in the venue. As everyone enjoyed libations from Deep Eddy Vodka and Alacran Tequila they were treated to several performances that included Sonic Butterfly and her harp made of steel cables that span 1,000 feet from the stage, overhead, clear across the venue to the side of a building. If that wasn't enough, there were live drone races zipping by at 120 MPH with an after party being hosted by E11EVEN.
Miami is abuzz with the invasion of almost 500,000 people and the realization that this years Miami Art Week and Art Basel reqires you now to arrive earlier in the week and go to the "Pre-Basel" that starts earlier in the week. "Pre-Basel" has become just as star-studded than the latter but without all the lines and overcrowding.
For images of the best kick-off event of Art Basel with InList go to Getty Images and WRE, get social on Facebook and Instagram.
For press inquiries and interviews:
Nick Betancourt
Betancourt PR
nick.betancourt(at)yahoo(dot)com